Craig W. Nelson, retired Covenant pastor and former president of Minnehaha Academy, died on January 5, 2023, after a short illness. He was 90.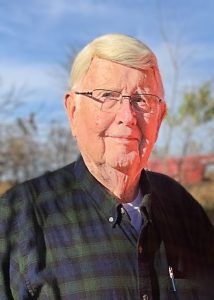 He was born March 8, 1932, to Covenant president Clarence A. and Blanche Nelson in Minneapolis, Minnesota. After graduating from Minnehaha Academy in 1949, he attended North Park College and Northwestern University in Chicago, where he earned bachelor's and master's degrees. He graduated from North Park Theological Seminary and was ordained in the Covenant Church.
He married Betty McLouth of New London, Minnesota, in 1956.
Together they served Covenant congregations in Villa Park, Illinois; Red Wing, Minnesota; Dearborn, Michigan; and Bloomington, Minnesota. Throughout his ministry, Craig worked with civic organizations, and in his final church served as a volunteer chaplain with the Minneapolis Police Department and the Bloomington Police Department.
In 1977, he was called to focus his career on education as the president of Minnehaha Academy in Minneapolis. During his tenure there, he oversaw the expansion of the school to two campuses and the addition of grades K-6. He worked tirelessly to raise funds and upon his retirement in 1994 left the institution debt-free and in strong financial health. He enjoyed teaching his Bible class, going to student performances, cheering on the Redhawks in a wide variety of sporting events, and encouraging students and their families along the journey of developing thinking minds and empathetic hearts.
His dedication to education led him to active service as a trustee, treasurer, and chair of the Minnesota Independent School Forum from 1977 to 2000. He also became a founding trustee and consultant for Providence Academy in Plymouth, Minnesota. His career earned him recognition in Who's Who in Education in America and designation as a Distinguished Alumnus of both Minnehaha Academy and North Park University.
After retiring to Spring Park, Minnesota, Craig took up community service in the Lake Minnetonka area and served as a director, treasurer, and vice chair of the Lake Minnetonka Conservation District until 2004.
Craig loved boating, camping, and traveling throughout the United States and Canada with his family. He found joy in talking, fishing, hunting, and laughing with his grandson, Rob. Craig lived at Covenant Living of Golden Valley in Minnesota for 15 years and recently moved to Maryville, Tennessee, to be near his daughter's family.
He was preceded in death by his wife, Betty, in 2007. He is survived by his son, Jon Nelson (Beth Olfelt); daughter, Cynthia Nelson Meyer (Bill); and grandson, Rob Meyer (fiancée Savannah
Lindsey). A memorial service will take place at 1:30 pm on Saturday, March 11, at First Covenant Church, 1280 Arcade Street, St. Paul, Minnesota.
Peace be to his memory.