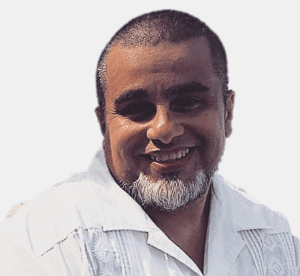 Covenant pastor Efrain "Brother E" Alicea passed away in New York City, New York, on January 31, 2023. He was 59.
Efrain John Alicea was born on August 6, 1964, to a strong, self-educated mother and a street-smart stepfather in Spanish Harlem. He was heavily involved in the Catholic church during his upbringing, and by God's grace, survived the streets of New York City.
After graduating from high school, Efrain pursued an undergraduate education as a young man at Columbia University, eventually earning a certificate from their School of Continuing Education. After he experienced a conversion to Christ and a call to ministry, Efrain graduated with a master's in theology from the Spanish Eastern District of the Assemblies of God Bronx Bible Institute, now known as Spanish Eastern School of Theology. For decades he continued to build a career at Columbia University in fundraising and development.
Efrain's life of faith began in earnest after visiting Iglesia Sion Pentecostal, a small Spanish church in the Bronx, where he dedicated his life to Christ. Efrain's fervent love for God and zeal for God's Word led him to teach Sunday school and become a youth director under the pastoral leadership of Rev. Gabriel DeHoyos. Around that time, he began to compose rap songs, reciting them over classic hip-hop instrumentals.
Before long he was known by the nickname "Brother E," and in 1993 he became very active in the gospel hip-hop scene in New York, performing with or alongside several groups including Power & Dominion and Brothers Inc. 4 da Lord. He also helped to create Rap Fest, an annual open-air evangelistic hip-hop concert series in his native South Bronx, which attracted rap artists and ministers from all around the world. Eventually he became affiliated with a ministry called Storytellas at Crossroads Tabernacle, which incorporated various elements of music, dance, drama, and comedy. At Crossroads he met Erika Sanchez, and they married on August 16, 2003.
Efrain helped to plant Harvest Fields Community Church under Rev. Mitchell Torres and Promised Land Church with Rev. Michael Carrion, where Efrain served as an associate pastor. In 2008, Efrain, Erika, and their children, Jason and Isabel, gathered with a core team of family and friends to plant Elements Church in the Bronx, which began his formal affiliation with the Evangelical Covenant Church.
Efrain had a heart for the marginalized, exemplifying what it means to be Christ's hands and feet, bridging the gap between the church and community activism. In addition to Rap Fest, he served as a guest performer and workshop presenter at the Flavor Fest Urban Leadership Conference in Tampa, Florida, and collaborated with the Luis Palau Association for a variety of conferences and workshops. Most recently, Efrain coached church planters through an initiative called Redeemer City to City and founded the first church planting network specifically in the Bronx called Bronx Gathering.
Brother E died as he lived, serving God and people. He is survived by his wife, Erika; son, Jason; daughter, Isabel; and two granddaughters.
A celebration of his life took place at Church of the Revelation in the Bronx on February 6, 2023. Memorial gifts to benefit his family can be given here.
Peace be to his memory.