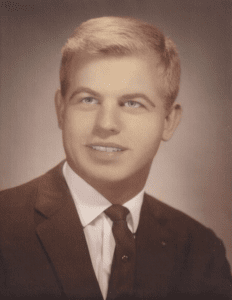 Wayne Hansen, husband of retired Covenant pastor Carolyn Hansen, died June 12, 2022, in Mercer Island, Washington. He was 80.
Wayne Willis Hansen was born on June 7, 1942, to Wisconsin dairy farmers William and Berniece Hansen. He graduated from Clintonville High School in 1960, then attended college as a business major at the University of Wisconsin Madison, before eventually going to the UW law school, graduating in 1967.
Wayne worked for the National Labor Relations Board in Minneapolis, Minnesota. He then practiced general law in Merrill, Wisconsin, later specializing in labor and employment law. He was a longtime partner at Lane Powell in Seattle before opening the Seattle office of Jackson Lewis, where he practiced until his retirement.
While in law school, Wayne met Carolyn Lemke, and they married in Bellevue, Washington, in 1969. In 1979, the family moved to Mercer Island, where the couple has lived ever since. Wayne was an active member of Evergreen Covenant Church on Mercer Island and served alongside Carolyn during her pastoral service there. He also served on the board of the Mercer Island Schools Foundation.
Wayne was preceded in death by his sister, Dianne. He is survived by his wife, Carolyn, and children Drew and Janna.
A memorial service was held on June 26 at Evergreen Covenant Church. Condolences may be sent to Carolyn Hansen at Covenant Living at the Shores on Mercer Island. Gifts in Wayne's memory may be sent to the Shores Benevolent Care Fund (Attn: Philanthropy Department, 9150 Fortuna Drive, Mercer Island, WA 98040), noting that it is for the "Wayne Hansen Memorial Gift."
Peace be to his memory.