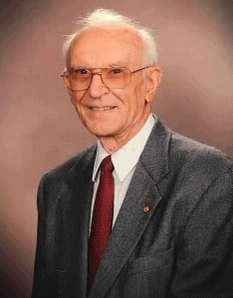 Retired Covenant missionary and pastor J. David Wood died February 14. He was 93.
Born December 12, 1929, to Janette (Rockwell) Wood and Francis "Jack" Wood in Ismay, Montana, Dave felt called to the mission field from an early age. He earned a BA in 1954 from Wheaton College and graduated from North Park Theological Seminary in 1958. He was ordained that same year. While studying at North Park, he met Rachel Carlson and they married in 1958.
Called to the mission field in what was then the Belgian Congo, Dave and Rachel were commissioned in 1958. Dave taught in the northwest province of Equateur. He served the church in Congo for 25 years, not only in Equateur province, but also at the ecumenical Protestant seminary in Kinshasa between 1968 and 1975. Before undertaking his duties down country, Dave earned an MA from Northwestern University's Garrett Evangelical Theological Seminary in 1966.
From 1979 to 1987, while their three children were attending college, Dave and Rachel took leave from the mission field, and Dave served as pastor of Zion Covenant Church in Ellsworth, Wisconsin. They returned to Congo in 1987 and served there until 2003 when they retired to Rockford, Illinois. In retirement, Dave continued his lifelong service to the Church as visitation pastor for Bethesda Covenant Church in Rockford; director of Love, Inc.; and a volunteer for Habitat for Humanity.
Dave will be remembered for his athleticism and love of competition. He loved word games, etymological puzzles, reading, languages, and appalling puns. Most of all, he will be remembered for his unwavering commitment to his faith in word and deed.
Dave was preceded in death by his wife Rachel in 2009. He is survived by his three children, Naomi Wood (Dean Hall), Judy Edstrom (James), and John (Diane); six grandchildren; and two great-grandchildren.
A memorial service will be held at 11:00 a.m., on Saturday, March 18, at Bethesda Covenant Church, 2101 East State Street, Rockford, Illinois. Visitation will take place before the service at 10:00 a.m. and a reception at the church will follow the service. Interment will take place later this summer in Moose Lake, Minnesota. In lieu of flowers, please send donations to Paul Carlson Partnership, PO Box 773457, Chicago, IL 60677-3420.
Peace be to his memory.