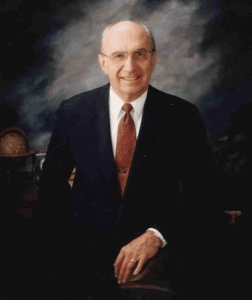 Retired Covenant pastor Leslie B. Pearson died February 14, 2023, in Rochester, Minnesota.
He was 92.
Leslie Birger Pearson was born on December 22, 1930, to parents Birger and Thelma (Manson) Pearson in Chicago, Illinois. At 14, Leslie sang in a quartet at his home church, Immanuel Covenant, to welcome home World War II veterans at a church banquet. They were a hit and went on to win a Youth for Christ talent competition and sing in the Chicago area together for 10 years.
After graduating from Taft High School in 1947, Leslie enrolled in Wright Junior College, then transferred to Wheaton College, graduating in 1954. He subsequently enrolled in North Park Theological Seminary and graduated in 1956,
then was ordained to ministry at First Covenant Church of Minneapolis in 1957.
Leslie served in pastoral ministry at a variety of churches over the next several decades, including stops at Austin Covenant Church in Austin, Illinois, where he served as youth pastor, First Covenant Church of River Falls, Wisconsin; Excelsior Covenant Church in Excelsior, Minnesota; Sioux Falls Covenant Church in Sioux Falls, South Dakota; Good Shepherd Covenant Church in Blaine, Minnesota; and Salem Road Covenant Church in Rochester, Minnesota.
While in Sioux Falls, Les served on a part-time basis as chaplain at
the South Dakota State Penitentiary for four years. He also had a radio ministry at KNWC. Through his connections there he ended up attending the Continental Congress on the Family in St. Louis,
Missouri, where he met Rozella Hofer. After a six-month long-distance relationship, Leslie and Rozella were married on April 24, 1976.
After his retirement in 1995, Leslie continued to serve churches in various roles, including stops in Minnesota and Wisconsin. All the while, he continued to enjoy working at Sam's Club and Tom Kadlec Honda.
At Salem Road Covenant, he was bestowed the title of "pastor emeritus" in 2012.
After Les and Roz moved to the Homestead of Rochester, he volunteered as one of the Sunday morning chapel speakers. Often over the past 30 years, he would receive calls from other Covenant church pastors asking if he would visit their parishioners who were in Mayo Clinic hospitals.
Leslie enjoyed playing basketball and softball, fishing and gardening,
and continued exercising his entire life. He also loved crossword puzzles, classical music, and visiting family.
Les is survived by his wife of nearly 47 years, Rozella "Roz" Pearson, nephews Dale Anderson (Kathy) and Gary Anderson (Linda), and niece Linda Anderson (Dean), three grandnieces, a grandnephew, and a great-grandniece.
A memorial service will be held at 10:30 am on May 13, 2023, at Salem Road Covenant in Rochester. In lieu of flowers, memorials are suggested to: Salem Road Covenant Church, one of the Minnesota Covenant camps, or Camp Victory.
Peace be to his memory.