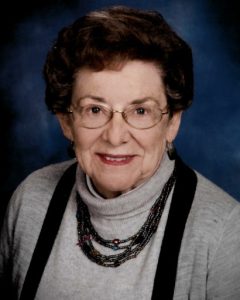 Jane Wiberg, widow of Covenant pastor Glen Wiberg, passed away June 19, 2023, in Golden Valley, Minnesota. She was 96.
Jane Mabes was born on March 17, 1927, to parents Eric and Pearl Mabes in Kansas City, Missouri.
After high school, where she met Glen Wiberg, Jane received her associate degree in literature from North Park Junior College in 1947 and her bachelor's degree in literature from William Jewell College in 1949. She and Glen were married on June 10, 1949.
Throughout their marriage, Jane was a constant spiritual support and assisted Glen with his ministry at the congregations he served in East Hampton, Connecticut; Princeton, Illinois; Youngstown, Ohio (First); Chicago, Illinois (North Park); and New Brighton, Minnesota (Salem).
She loved theater, acting, singing, gardening, and using her creative gifts. She will be remembered for her humor, love of flowers, gift of hospitality, and flair for fashion. Jane spent the final season of her life as a resident of Covenant Living of Golden Valley in Golden Valley, Minnesota.
Jane was preceded in death by her husband, Glen, and their son, Carl Eric. She is survived by two children, Kathie Frank (Matt) and Sarah Betz (Mark); daughter-in-law Krista Brumberg Stevens; as well as seven grandchildren and five great grandchildren.
A memorial service was held at Salem Covenant Church in New Brighton, Minnesota, followed by internment at Hillside Cemetery.
Peace be to her memory.