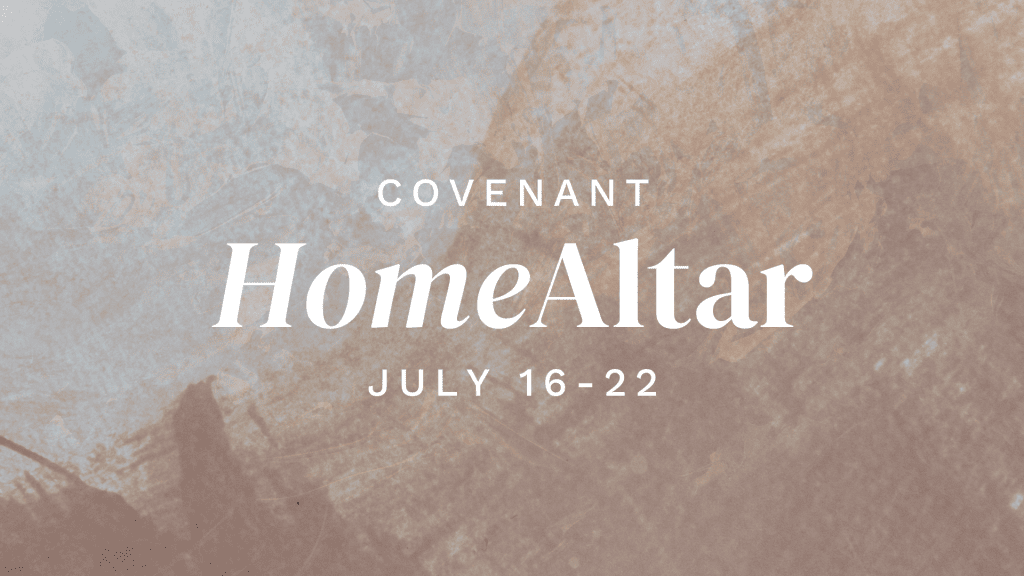 Giving Us Eyes to See the Unexpected



---
SUNDAY, July 16
Seventh Sunday After Pentecost
Zechariah 9:9-12
Why did you accept your current role or job? Did you want to make an impact—on your family, on a particular community or industry, on the world? We often believe this will happen through victories or breakthroughs. We do not expect that it also often occurs through struggle and being humbled. 
I am sure that the Israelites were drawn to Zechariah's proclaiming that "triumphant and victorious is he [your king]" and that "his dominion shall be from sea to sea" (vv. 9, 10, NRSV). They may have easily skipped over the words "humble and riding on a donkey" (v. 9b) and "the blood of my covenant" (v. 11). That caused many of them to miss Jesus's actual coming. What are we missing due to our narrow vision of how God's kingdom unfolds?
Lord God, may we not be surprised when difficulties occur in our lives. May we have eyes to see and hearts willing to join in the whole picture of God's triumphant and humble kingdom coming through Jesus. AMEN.
PRAYER FOCUS: SABBATH REST
Bringing Our Expectations to Jesus
---
MONDAY, July 17
Matthew 11:1-6
Our first year in Thailand was difficult. Language learning was slow, our marriage was bumpy, and we had frequent conflict with our kids. In the back of our minds, we wondered if God had really called us here.
"Are you the one who is to come, or are we to wait for another?" (v. 3). Even John the Baptist, the one anointed to prepare the way, had questions as to whether Jesus was the Messiah. Evidently Jesus's ministry was not in line with what he expected. 
Whether you are a new believer or you have walked with God a long time, perhaps you have had experiences that cause you to question who God is or what he is doing. That is okay! What is crucial is that, like John the Baptist, we come to Jesus with our questions and listen as he responds with words from Scripture. 
Heavenly Father, may we approach your throne of grace in our times of doubt and need, and may we seek your revelation through your Word. AMEN.
Unexpected Packaging
---
TUESDAY, July 18
Matthew 11:7-19
It is easy to overlook Pi Tui, our director of finance and facilities at Cornerstone. Other staff members have more education, more self-confidence, and speak more articulately. But we need to seek out her perspective and guidance, as she is a woman of prayer, self-sacrifice, and authentic faith. She has helped us navigate several challenging situations and decisions.
Jesus praises John the Baptist as one with a worthy message. Jesus proclaims there is no one greater than John, despite his strange clothing and the fact that he was imprisoned at the time. Who do you overlook based upon their outward appearance or lack of credentials? Could it be that they have a worthy message for you?
Jesus, there was nothing about your appearance that we should desire you (Isaiah 53:2), but you are the Savior of the world. Likewise, many prophets around us exist in humble packages. May we listen to them with sincere and open hearts. AMEN.
PRAYER FOCUS: MIDDLE EAST AND NORTH AFRICA (MENA) PARTNER
Rest as We Release Expectations
---
WEDNESDAY, July 19
Matthew 11:25-30
Like many Asian Americans, our family stressed the importance of education when I was growing up. My cousins and I felt an immense responsibility to get into the best colleges.
Like many of you, I am quite familiar with today's passage. But rereading verses 25-30 brought something to my spirit in a new and fresh way. Jesus shares here that God keeps things hidden unless the Son reveals. This is one door no amount of education, learning, or striving can open. Does that bring discouragement since it is out of our control? No, it brings rest. "Come to me, all you who are weary and are carrying heavy burdens, and I will give you rest" (v. 28). 
Lord God, you call us to press on, but may we do it with freedom and a sense of peace. May we find your rest, confident that your revelation work is ultimately in your hands. AMEN.
Hospitality
---
THURSDAY, July 20
Matthew 10:40-42
How do you help a guest feel welcome in your home? Some of us prepare a favorite meal. Others create an inviting atmosphere through warm décor and scents. We place great importance on receiving guests well because we want them to feel special and well-cared for.
Jesus's words here are astonishing. Essentially he states that the reward for welcoming a guest is as great as that for the work done by that person, even if they are a prophet or righteous person. Why does he value hospitality so much? Perhaps it is because Jesus knows what it feels like to be on the outside, to not be welcomed. "He was despised and rejected by others" (Isaiah 53:3). Jesus deeply desires for people to experience being enfolded into the body through the gift of hospitality.
Jesus, may we practice hospitality in a way that points people to the fact that you are preparing a great banquet for us, welcoming us into your home. AMEN.
PRAYER FOCUS: PEOPLE SUFFERING FROM ILLNESS
The Expectation of Discipleship
---
FRIDAY, July 21
Psalm 86:11-13
Wouldn't it be amazing if our son could have automatically mastered all aspects of driving in the snap of a finger? It would have saved a lot of time, sweaty armpits (both the child's and the parents'), and mini-heart attacks. In looking back, however, I find that I experienced a deep joy in instructing and encouraging him on those car rides we shared together. 
Perhaps that is a glimpse into how God feels about us. He wants to teach us his ways and to have us rely on him (v. 11). While we pray for, and even sometimes expect, instant sanctification, he desires lifelong discipleship. Our experience of his love and praise for him is so much richer through it. 
Father God, we confess that we sometimes want shortcuts to spiritual maturity. May we expect and enjoy our discipleship journey in becoming more like Jesus. It may take longer, but we get more of you—your leading, guiding, encouragement, and fellowship. AMEN.
Expectantly Seeing His Face
---
SATURDAY, July 22
Psalm 86:14-17
What were we taught to do when an unhoused person walks toward our car while we are stopped at a traffic light? Many of us learned to lock the doors and don't make eye contact. In other words, pretend that they do not exist. 
On the other hand, when we turn toward someone, we are saying they are worthy of our attention and have value. There is also vulnerability, as we reveal our faces to those to whom we turn toward. 
How amazing is it that David says to God, "Turn to me and have mercy on me" (v. 16, NIV)? Even more miraculous is that God turns his face toward us as his beloved children whom he treasures. 
God, may we expectantly echo the words that Paul wrote: "For now we
see only a reflection, as in a mirror, but then we will see face to face. Now
I know only in part; then I will know fully, even as I have been fully known" (1 Corinthians 13:12). AMEN.
PRAYER FOCUS: COMFORT FOR THOSE IN PAIN