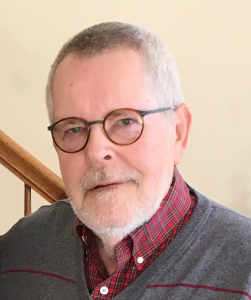 Retired Covenant minister and educator John K. Larson died June 14, 2023. He was 78.
John Kenneth Larson was born on January 20, 1945, to parents Kenneth and Beulah (Olson) Larson in Chicago, Illinois.
John graduated with a bachelor's in psychology from North Park College in 1967 and obtained his teaching certificate from the same institution the following year. He married Carole Hadsall on July 12, 1969.
John began his career as a high school special education teacher in Chicago. During this time, he also began working as the summer ministry director at his home congregation of Ravenswood Covenant Church in Chicago, Illinois. In 1977, he transitioned into the role of Christian education coordinator for Covenant Children's home in Princeton, Illinois.
John moved back to Chicago in 1981 and worked for the National Department of Covenant Christian Education while pursuing his master's degree in religious education from North Park Theological Seminary. He graduated in 1983 and received his ministerial license the same year. He was commissioned in Christian education in 1985.
Throughout the remainder of his career, John served as a minister of Christian education in Covenant congregations in Grand Rapids, Michigan; Omaha, Nebraska; and New Brighton, Minnesota. He was ordained to specialized ministry in Christian formation in 2003.
Beyond his role at the churches he served, John also spent time as a mission awareness and Christian education consultant for the Midwest Conference as well as a vision to action coordinator. He served on the Midwest Conference Christian education board and the task force on ordered ministry.
John was preceded in death by his son, Peter, in 1997. He is survived by his wife, Carole; two children, Jennifer Larson (Michael Angelini) and Amy Larson (Joseph Runde); and two grandchildren.
Peace be to his memory.