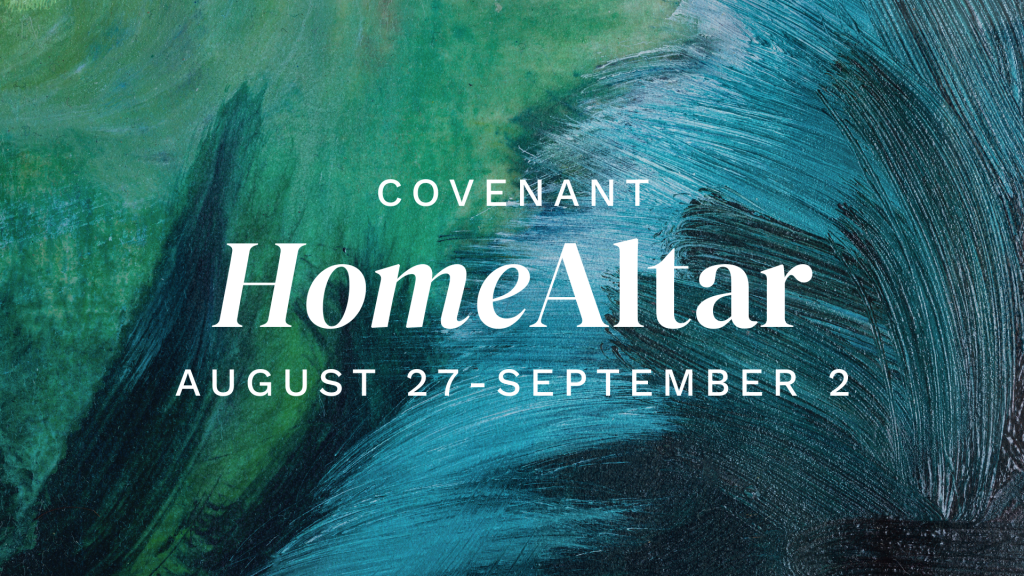 Feeling Pain and Hope



---
SUNDAY, August 27
Thirteenth Sunday After Pentecost
Genesis 45:1-15
Joseph's story is an excellent place to start as we engage Scripture with our hearts. In many ways this passage is the emotional climax of his tale. The story started back in Genesis 37 and is full of drama (and trauma) as Joseph's own brothers sold him into slavery. In today's text, he meets his brothers again. As he speaks, his emotions drip off the page like his tears. How would you describe Joseph's emotions? He seems caught between the pain of his brothers' betrayal, the pain of the lost years with his family, and a sense of hope and excitement about God's redeeming work. This hope allows him to interact with his brothers' feelings of guilt and shame, forgiving them their sin against him.
What emotions come up when you read Joseph's pain and hope? Feelings of pain are never the end of the story when God is involved. Bring those feelings to God, and watch for his redeeming work.
Our God who walked with Joseph, as we sit with our own jumble of feelings, give us hope in your continued work. AMEN.
PRAYER FOCUS: THOSE WHO CARE FOR OTHERS
From Lack to Plenty
---
MONDAY, August 28
Genesis 45:16-28
Today we continue the emotional climax of the story of Joseph, as he sends his brothers back to Canaan to bring their father, Jacob, and their families to live in Egypt. Jacob's sons have been living in famine for years now, scrimping and saving just to feed their own. I imagine it would be a constant anxiety, a rip current pulling at their feet. Finally it gets bad enough that they travel to Egypt, where, somehow, there is food to spare. How might those brothers have felt as they traveled? Worn out, wrung out, spent, perhaps ashamed.
Image their joy and confusion as their brother Joseph, long gone, is the one who greets them. With tears and hugs, Joseph forgives them and promises not only some food, but an overabundance, and impossible salvation for the next five years of famine to come. Shame turns to glad-ness, lack becomes plenty. This is how our God works. Does your heart stir at the thought of new life coming in the middle of our darkest times?
God, you see us in our anxiety. Help us to trust and accept your peace as we wait for your provision. AMEN.
Oil and Water
---
TUESDAY, August 29
Psalm 133
The psalms are a wonderful place to purposefully engage our hearts. This psalm, a "song of ascent," was intended to be sung as Israelites hiked up the mountain to worship. Two images are used to prepare hearts for the unity of worship. First, the psalmist writes of oil that is poured on Aaron's head, consecrating him for ministry. The oil overflows, pouring down his head, then beard, and then the collar of his robes. It's an image meant to stir up gratefulness for God's abundant generosity. Second, we read of the dew on Mount Hermon. The rain and snow that lands on that mountain eventually flow down into the Jordan Valley, bringing water to the desert, new life to a barren place. This, again, elicits feelings of gratitude, a deep drink of cool water on parched lips.
What feelings do these images bring up in your own soul? Do you feel a sense of longing, perhaps for community, for purpose, for the water of life? We find an abundance of those things as we worship God.
God who anoints us for ministry, give us the water of life so that we may worship you today. AMEN.
PRAYER FOCUS: THOSE WHO CARE FOR US
Inside and Out
---
WEDNESDAY, August 30
Matthew 15:10-20
Here is a text that may bring up uncomfortable feelings. We, like the Pharisees, find ourselves the subject of disquieting questions.
The issue at hand is one of integrity. The Pharisees were hyper-focused on purity laws—so much so that they ignored true purity that comes from a heart that is right with God. With all their attention on outward expressions, they missed the inward reality. In Jesus's piercing critique, they are "blind guides of the blind" (v. 14).
We are similarly put under the microscope. Do our insides match our outsides? Or do we put too much emphasis on appearing right with God without actually being right with God? What feelings come up as you consider your inner and outer state? Don't shy away from those emotions! They are fertile ground for God's work. In trust, follow the feelings of disquiet to where we are most uncomfortable, where we most fear God will look. That is likely where we most need Jesus, with his piercing, loving eyes to guide us to true purity.
Father, forgive us when our outsides do not match our insides, and give us the courage to invite you into those spaces. AMEN.
Amazed
---
THURSDAY, August 31
Matthew 8:5-13
We return today to Matthew, another story of Jesus brimming with emotion. What stands out to you about this Roman soldier? He breaks two stereotypes. First, he expresses compassion for a slave, someone who would not ordinarily receive a second thought from a soldier of his rank. And second, this high-ranking Roman soldier goes to an esoteric Jewish teacher for help, showing a deep faith. This level of faith inspires us, but it stunned Jesus. We read in verse 10 that Jesus was "amazed" at this man's faith, the amount of trust he placed in Jesus.
When Jesus looks at your faith, is he amazed? I think he is. Jesus says elsewhere that it only takes faith the size of mustard seed to move a mountain. Simply by picking up this devotional today, seeking to spend time with Jesus, you have expressed that faith. Let his loving amazement sink in today.
Jesus, thank you for giving us the faith we have. Help us to feel your loving amazement. AMEN.
PRAYER FOCUS: PEOPLE WHO DEAL WITH MENTAL ILLNESS
From Blessing to Joy
---
FRIDAY, September 1
Psalm 67
Before you read Psalm 67, take a moment to listen to your emotional center. How are you feeling in this moment? Are you scattered, rushing? Are you content? Notice how you are feeling and then turn to this text.
An interesting pattern occurs in these seven verses. Verse 1 begins with a request for God to "bless us." Then we move into lines expressing "praise" to God in verse 3. Verse 4 is the center, with "glad" and "joy" comprising the heart of the psalm. From the center, we return to "praise" in verse 5. Finally, the psalm lands us back with a request for "blessing." From blessing to praise to joy to praise to blessing. This is a structure we can use in our own prayer life. Coming from wherever we are today, we can ask for God's blessing, relying fully on his guidance. We can praise him for his goodness. There, we will find gladness and joy. From that place of joy, we return to our circumstances, confident in God's presence.
God, our wise guide, bless us with your presence, accept our praise, and grant us joy today. AMEN.
Chosen
---
SATURDAY, September 2
Isaiah 56:1, 6-8
As we conclude this week's experiment of reading Scripture with our hearts, we come to a text full of potential emotions. Perhaps you remember the childhood trial of picking teams for kickball. It was always an emotional rollercoaster for me, even though the results were almost always the same. Not being very athletic in my youth, I can still feel the waves of disappointment and feelings of inadequacy as all the other kids were picked first. Somehow, though, even when I was in the final few draft rounds, I remember the thrill of hearing my name called. I got picked!
Our text from Isaiah carries a similar emotional rollercoaster. God has made and kept his covenant with Israel, but what about other nations? What about Gentiles who love the Lord? Here God makes a dramatic choice. "I choose you!" he says. How does your heart respond as God looks at you and chooses you? God picks you to be on his team, a part of his people. Amazing!
God in heaven, thank you for picking me, for choosing us as your people. Enable us to live today worthy of it. AMEN.
PRAYER FOCUS: MENTAL HEALTH PROFESSIONALS