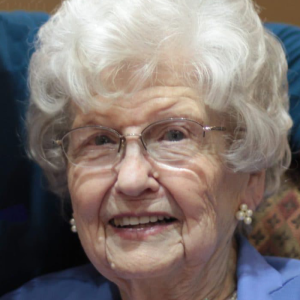 Retired Covenant missionary Ruth A. M. Widman died July 26, 2023, in Batavia, Illinois. She was 107.
Ruth Aileen Mae Swanson Widman was born to Fred and Josephine Swanson on May 7, 1916, in Mead, Nebraska. She was raised on a farm among loving family, animals, fields of grain, and an orchard. She was very active in school, and after graduating high school attended the University of Nebraska, where she earned a teaching certificate in 1936.
She married Harvey Widman on August 22, 1937. Both Ruth and Harvey attended North Park College in 1941, and Harvey was ordained that same year. During her time in Chicago, Ruth sang in a trio with two of her four sisters. They made recordings of their favorite songs at Moody Bible Institute's recording studio. Ruth also enjoyed sewing and painting and continued to trade cooking, decorating, and gardening ideas with all four of her sisters throughout her life.
In 1942, Ruth was dedicated to teaching and evangelism with the Covenant. In spite of the dangers of World War II, she and Harvey traveled to the Congo to serve as missionaries. The journey was harrowing—a German U-boat attacked their convoy, a sudden storm separated their ship from another pending attack, and torpedoes hit a boat ahead of them carrying aviation gas and soldiers. In the evenings Ruth and Harvey shared the gospel on the deck with the captain and crew.
In Congo, Ruth taught the Bible to women and led other activities. She taught music and loved singing, using songs from the Covenant Hymnal translated into Lingala. They served in Congo for 29 years.
During 1965-67, the Widmans taught at Covenant Bible College in Prince Albert, Saskatchewan.
After they retired from missionary service in 1980, Ruth and Harvey served at Rolling Hills Covenant Church in Rolling Hills Estates, California; Tucson Covenant Church in Tucson, Arizona; and with World Relief. They moved to Covenant Living at the Holmstad in Batavia, Illinois, in 1994.
Retired global personnel Baxter and Margie Swenson are just two of the people who were impacted Ruth and Harvey's ministry. Joining other Covenanters to celebrate Ruth's 100th birthday in May 2016 at the Holmstad, Margie shared, "The trajectory of our lives was settled because of that God-ordained conversation, and our story is just one of many who were influenced for missionary service by Ruth and Harvey."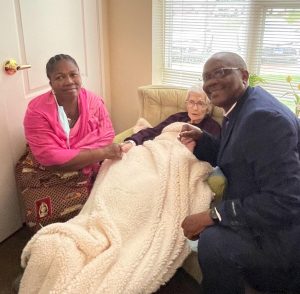 In May 2023 Rev. Theophile Duale Langba, president of the Covenant Church of Congo, and his wife, Mama Josephine, spent time visiting with Ruth during their trip to the United States.
Ruth was preceded in death by her husband, Harvey. She is survived by their three children, Sandra Bernahl (Wayne), Harvey (Kari), and Robert "Bob" (Joyce); six grandchildren; and four great-grandchildren.
A funeral service will be held at Mead Covenant Church followed by internment at Morningside Cemetery in Mead, Nebraska, on October 21, 2023. In lieu of flowers, memorials may be given to the Covenant's Serve Globally, Voice of the Martyrs, Samaritan's Purse, Mead Covenant in Nebraska, or any of the Covenant churches where Ruth and Harvey served.
Peace be to her memory.