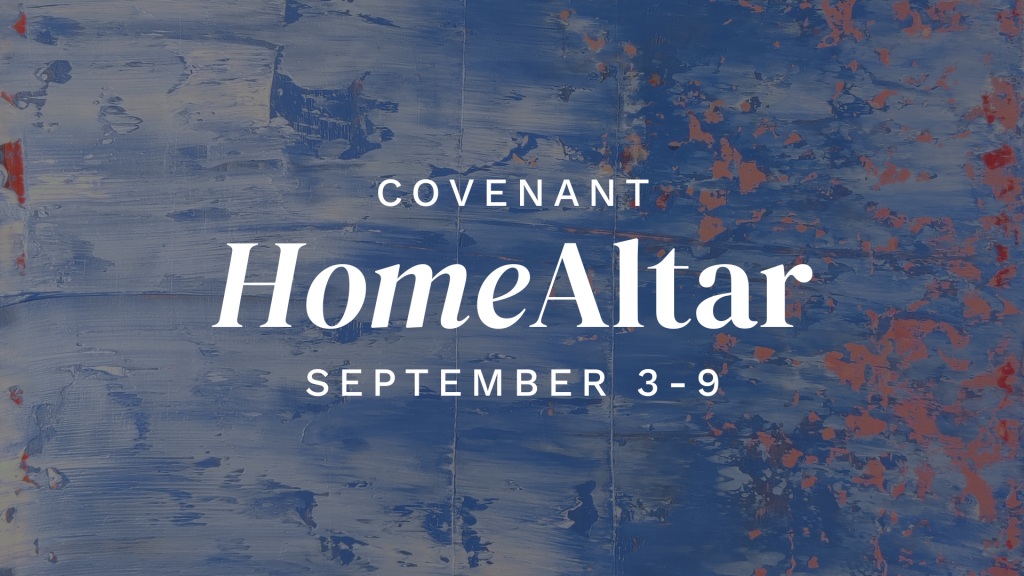 Experience His Faithfulness



---
September 3
Fourteenth Sunday After Pentecost
Exodus 1:8–2:10
Many years ago, I was called to be the director of a Christian school. My initial response was to tell God, "I don't want it. I want a normal nine-to-five job, a husband, and kids of my own." Before I could finish talking back, I heard a voice say, "Take the job for two years, and everything you asked, I will give you." And it happened just as God said.
Throughout our marriage, my husband and I have known trials. During those times, I think back to my decades-old prayer and say, "God, I never asked that my husband and I not know financial hardship or that our children would never get sick—that was just implied!" 
I am sure Moses's mom talked back, but she put her son into a basket and the basket into the river, and deliverance came to a nation. God's faithfulness often manifests in unexpected ways, propelling us through our own "basket-case" moments.
Dear God, help us to trust that what you have called us to birth will bear fruit in its season. AMEN.
PRAYER FOCUS: GRATITUDE FOR THE SAINTS IN OUR LIVES
Don't Doubt: Enjoy Generational Blessings
---
MONDAY, September 4
Isaiah 51:1-6
I experienced postpartum depression with my firstborn. A few hours after coming home, I called the hospital to ask if we could come back because I was having trouble nursing my daughter and she would not stop crying. That's when my mom stepped in. She said, "Bring me the baby, the diaper bag, and that formula they gave you at the hospital, and then go somewhere and sit down." Her words were not gentle, but they were comforting.
Throughout my life, I have drawn on my mom's strength. Today when my daughter experiences anxiety or rehearses a potentially negative outcome, I often remind her, "Grandma never taught me to give up, and so I never taught that to you."
In today's passage, those who pursue righteousness are encouraged to "look to the rock from which you were cut" (v. 1, NIV). When our legacy has been infused with God's faithfulness, it's easier to trust that his promises to us are forever.
Dear God, help us to pass on the generational blessing of trusting that your faithfulness will never fail. AMEN.
Don't Doubt: Pray, Expecting Goodness
---
TUESDAY, September 5
Isaiah 51:12-16
When my kids were young, my favorite time of the day was bedtime. We would read a book and then pray. One night my son said, "You forgot to pray 'hurt, harm, and danger.'" He was referencing a part of our nightly routine where I asked God to keep us from all hurt, harm, and danger. But the unintentional result of my prayer was my son's expectation that without God's daily intervention, something bad was bound to happen.
In today's passage, we hear God saying, "I am he who comforts you. Who are you that you fear mere mortals…[and] forget the Lord your Maker…[and] live in constant terror every day because of the wrath of the oppressor?" (vv. 12-13). Verse 16 goes on to say, "I have put my words in your mouth and covered you with the shadow of my hand." So we pray, not in fear, but with assurances that bring comfort.
Dear God, as we beseech you, may the words of our prayers never limit your unbounded sovereignty and goodness toward us your children. AMEN. 
PRAYER FOCUS: WILLINGNESS TO SEEK PEACE
Don't Doubt: Acknowledge His Help
---
WEDNESDAY, September 6
Psalm 124
I was raised in a Christian home, but I have done things of which I am not particularly proud. As a young adult, I usually made my worst decisions when hanging with people who set the bar high for having a good time but low for our standard of behavior. Once, after a night at the club, my decision to accept a ride home with a couple of strangers put my girlfriend and me in a dangerous situation. By the grace of God, we eventually made it back to her house, very grateful for God's protection.
That night was indeed a Psalm 124 moment. If it had not been for the Lord on our side, the flood might have swept us away. We escaped like a bird from the snare of the fowler. Our help was indeed from the Lord!
Dear God, blessed be your name for the times you have given us a way of escape from dangers known and unknown. AMEN.
Don't Doubt: Stand in Faith
---
THURSDAY, September 7
Matthew 8:23-27
One day when I was five, my family visited the Lincoln Memorial. My brother floated a sailboat in the reflecting pool while I chased a squirrel. Suddenly, the squirrel turned toward me, and I ran, knocking my brother into the pool. I watched in fear as my mom urged my dad to go in and get him. Instead, my dad said to my brother, "Stand up." He said it a few times before my brother finally stopped gulping water while flailing his arms and legs. Eventually he stood up in the knee-deep water and waded out of it.
Even knowing that God has delivered us time and again, we still sometimes flail around desperately in the midst of our troubles like the disciples in today's passage. But Jesus calls us to mature in our obedience so we can stand in faith.
Dear God, may our faith in you be a witness to others as we stand firm and navigate the storms life sends our way. AMEN.
PRAYER FOCUS: PRAISE FOR GOD'S FAITHFULNESS
Don't Doubt: Know His Power
---
FRIDAY, September 8
Matthew 16:13-20
Seeking to reenter the paid workforce after several years of staying home to raise kids, the wife of a ministry colleague asked if I would write her a recommendation. Throughout my time as the director of a Christian school, she always volunteered in whatever ways were needed. Her husband called to thank me for writing such a detailed recommendation. He knew of his wife's strong administrative and creative giftings, and he appreciated that God had allowed me the opportunity to observe and articulate her capabilities.
Jesus similarly requests a recommendation when he asks Peter, "Who do you say I am?" (v. 15). Peter's answer demonstrates a divine revelation obtained not through Scripture, but through seeing Jesus—the Word alive—at work in the lives of those he came to serve and set free.
Dear God, bring your Word to life in us as we serve so that others may see and come to know the transforming power of your love. AMEN.
Don't Doubt: Praise His Unfailing Love
---
SATURDAY, September 9
Psalm 138
As I write this devotion, my husband and I are going through one of the biggest spiritual battles of our lives. It's the type of thing that gets you out of bed at 3 a.m. and on your knees seeking God's face. Together we are praying and fasting and reading the Word. I often have gospel music playing, so our faith is reinforced by it. Daily we put God in remembrance of his Word that the two of us can send ten thousand demons to flight. That word emboldens us and gives us reason to praise him.
Even as we wait, I will live this psalm. "I will praise you Lord, with all my heart….I will bow down toward your holy temple and will praise your name for your unfailing love and your faithfulness" (vv. 1-2).
Dear God, as we lift our praise, may we be strengthened, knowing that you will always vindicate us, your love endures forever, and you will not abandon the work of your hands. AMEN.
PRAYER FOCUS: STRENGTH FOR TODAY