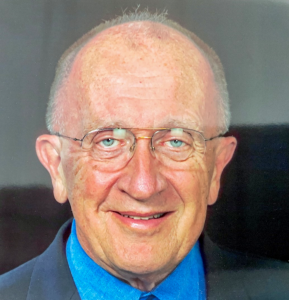 Retired Covenant minister and superintendent Herbert Freedholm passed away July 21, 2023, in Palatine, Illinois. He was 86.
Herbert Milton Freedholm was born to parents Milton and Helen Freedholm in Minneapolis, Minnesota, on March 25, 1937. He spent his formative years growing up in Minneapolis and attended Bethlehem Covenant Church, where his father served as pastor. After high school, Herb earned an associate's degree in liberal arts from North Park Junior College in 1957, then a bachelor of arts from the University of Minnesota in history and philosophy in 1959, before returning for a master of divinity degree from North Park Theological Seminary, which he earned in 1963.
Herb married Rlou Guston at Bethlehem Covenant on June 12, 1959.
Herb was licensed and ordained into ministry with the Evangelical Covenant Church in 1964. Together, Herb and Rlou served in pastoral ministry at several congregations, including Covenant churches in Princeton, Tinley Park, and Rockford, Illinois; Excelsior, Minnesota; and Milford and North Easton, Massachusetts. Herb served as superintendent of the Central
Conference for nearly 21 years, from January 1984 to December 2004. Herb's professional history with the Covenant was covered in a 2004 profile by Don Meyer, entitled "Freedholm: His Passion for Justice Runs Deep."
Herb was known for being a compassionate minister of the gospel of Jesus Christ. After he and Rlou lost their eleven-year-old son Peter to the rare brain disease Reye Syndrome, Herb persevered in the faith and eventually used their grief as a way to reach others also suffering from loss. He was a champion of women in ministry and leadership roles at all levels of the Covenant, and also promoted the ethnic diversity of the Covenant, wanting to see people in diverse communities come to a relationship with Christ.
Herb was known to have a great singing voice, and he used to lead hymns in front of the congregation. He was also an ardent Cubs fan and enjoyed traveling to Arizona for spring training, and also loved to travel to the beach on Cape Cod in Massachusetts. He was a devoted husband and father who will be greatly missed by the broader Covenant family.
Herb was preceded in death by his son Peter. He is survived by his wife, Rlou; children David, Diane Cederberg, and Daniel; seven grandchildren and four great-grandchildren.
Details surrounding a memorial gathering are in progress and will be announced.
Peace to his memory.