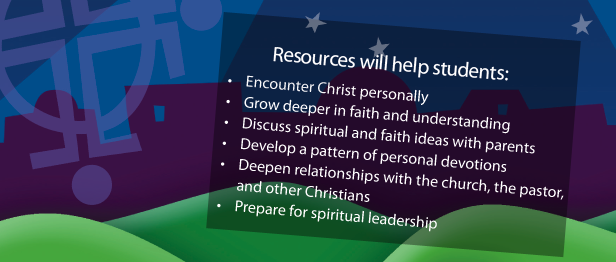 Discipleship | Confirmation
The Journey exists to foster a deep and abiding relationship with Father, Son, and Holy Spirit by encouraging participants to begin, or intentionally continue, a life-long journey as Christ's disciple. Through The Journey we hope to present an overview of the Bible and church beliefs while offering all participants the opportunity to make or strengthen their personal commitment to follow Christ.
---

Learn more about the available Journey curriculum material for students, leaders, mentors, and adult learners which presents the Old and New Testaments, church history, and also provides Covenant background.

The Journey audio edition, included with purchase of the material, increases the accessibility of this material for students and mentors alike. Learn more about the audiobook here…

Make the most of The Journey curriculum by using the additional downloads and extra supplemental material like clip art, leader handouts, memory verse building blocks, and more available for free!