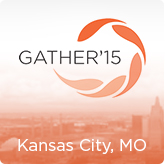 The 2015 Annual Meeting (Gather) took place June 25-27 in Kansas City, Missouri. The theme was, "Make and Deepen Disciples". Speakers for the event included Jo Saxton (Thursday evening), Beth Seversen (Friday morning), Klyne Snodgrass (Friday evening), Peter Ahn (Saturday morning), and Miguel Guerrero (Saturday evening).
News
View all news stories from Gather 15 here.
Downloads
View all Gather 15 reports and documents below:

2015 Delegate Summary
Photo
View all photos from Gather 15 at our ECC Albums page.
Video
View the Gather 15 Highlight Video on CovChurch.tv.
View the Gather 15 Session Videos here.