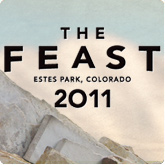 The 2011 Feast took place June 25-28 in Estes Park, Colorado and the theme was "Play: For the Kid in All of Us." Speakers from the event included Jeff Mazariello (Saturday evening), Lauren Walter (Sunday morning), Eugene Cho (Sunday evening), Wilson Herrera (Monday morning), Camille Russell Wooden (Monday evening), and Peter Sung (Tuesday morning).
Downloads
View worship resources from 2011 Feast here.
Photo
View all photos from 2011 Feast at our Feast 2011 Flickr page.
Video
View all video footage from the 2011 Feast including messages, featured content, and living reflections on CovChurch.tv.