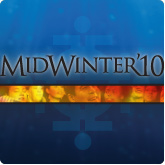 The 2010 Midwinter Conference took place January 25-28 in Denver, Colorado and focused on the theme "Living Our Affirmations: The Necessity of the New Birth." Speakers from the event included Craig Groeschel (Monday evening), John Ortberg (Tuesday morning), Paula Fuller (Tuesday evening), Nancy Ortberg (Wednesday morning), Lon Allison (Wednesday evening), and Noel Casellanos (Thursday morning).
News
View all news stories from 2010 Midwinter Conference here.
Downloads
View 2010 Midwinter Conference material available for download here.
Video
View all video footage from the 2010 Midwinter Conference including messages, featured content, and business sessions on CovChurch.tv.