"Where is it written?" prompted the Covenant Church's decision to claim the Bible as the sole authority in matters of faith, doctrine, and life. In 1870 a group of ministers in Sweden were discussing over coffee "atonement," the confessional understanding that Christ, through suffering and death on the cross, took on the punishment that humankind deserved and appeased God's wrath. One pastor asked, "Where is it written?"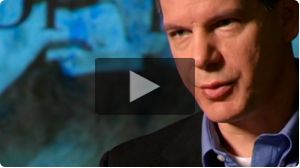 Paul Peter Waldenström took the question seriously. Ordained in the Church of Sweden, he held a PhD in classical languages and literature from Sweden's oldest university, Uppsala. In 1872 after intensive study of Scripture, PW injected into the debate raging both Sweden and America an earthshaking sermon published in the Pietisten. He proclaimed that God's love, not wrath, was the motivating work of atonement. Otherwise, it was God who needed to be reconciled, not humankind, and God was the object, not the subject of Christ's death and resurrection.
For most Mission Friends, Waldenström's formulation squared with their own experience of conversion. Swedish Archbishop Nathan Söderblom would later say that PW had restored to the Swedish people an evangelical view of God, a face of love and not angry judgment.
The formulation also led those organizing the Covenant Church not to adopt formally the Lutheran Augsburg Confession or write a creed of their own. Everyone was free to read and think for themselves in accordance with the Bible. Wisdom came from the believing community in conversation with one another and dependent on the Spirit's leading.
This theological freedom in the context of the Bible's authority is highly prized by Covenanters. David Nyvall, founding president of the Covenant's North Park University in Chicago, said that freedom was the last of the spiritual gifts to mature.
This question so simply stated "Where is it written?" does not give Covenanters license to search Scripture for simple proofs. Its intent is to ask, "What do the Scriptures say?" and invite study and conversation of Biblical texts to discern God's truth amid each pilgrim's journey. At times this may lead to disagreement or ambiguity, but cohesion of the church relies on the shared life in Christ, not on everyone agreeing.
Covenant people have always lived amid creative tension. One old immigrant woman wisely said, "It is not too difficult to love someone whose heart is right, even if their head leaves something to be desired!" The ECC wishes to honor an old maxim, widely quoted by Pietists: "In essentials, unity. In non-essentials, freedom. In all things, love." Covenanters continue to find their personal and communal anchor by asking the question, "Where is it written?"