In times of uncertainty and anxiety, we seek the One who is our rock and foundation. And in times of joy and gratitude, we turn to Christ, our focus and center. Through prayer, God speaks, and we listen.
You are invited to join a Covenant-wide Call to Prayer, an opportunity for our denomination to unite together in prayerful dependence upon the Holy Spirit.
Join us as we focus on prayer. Multiple options to engage include:
Week of Prayer
Virtual Monthly Prayer Gatherings 
Sermon Series Campaign 
Serve Globally Prayer Calendar
Covenant Home Altar
Prayer resources, sermon series guides, and updates will be released throughout the first half of 2023. Click below to be notified as resources are released.
Do not be anxious about anything, but in everything by prayer and supplication with thanksgiving let your requests be made known to God.
– Philippians 4:6 
Week of Prayer
Bulk Orders in English or Spanish at covbooks.com
A week of devotional reflections on faithful figures in Scripture who model a posture of prayer.
Prayer Gatherings
Monthly 30-Minute Zoom Gatherings at 2:00 PM CST
Join denominational and conference leaders in 2023 for monthly virtual prayer gatherings. February 2, March 2, April 6, May 4, and June 8.
Sermon Series
Six-Week Sermon Series, May 7–June 11, 2023
Includes sermons, memory verses, devotional guides, social media package, weekly prayer activities, media pieces, and small group curriculum.
Prayer Calendar
New Issue Available June 2023
The Serve Globally Prayer Calendar can be used as a convenient daily prayer guide to pray for God's work around the world and specifically for Covenant missionaries, ministry partners, and the countries in which they serve.
Home Altar
Subscriptions Available at covbooks.com
Daily devotional guide written by Covenanters, for Covenanters. Home Altar is based on Scripture and seeks to relate biblical truth to everyday experiences.
Waiting in prayer is a disciplined refusal to act before God acts.
– Eugene Peterson
Deeply Connected
As we begin a new year, we seek to be connected to God and to each other through prayer. These seven meditations from seven Covenanters invite us to reflect on biblical figures who model a posture of prayer. The Week of Prayer can be used by individuals or groups, over one week or over the course of seven weeks. Feel free to customize the resource for your context, adding your own prompts to further enhance the discussion and enrich your time of prayer. Above all, let us join together as the Covenant Church to listen to and wait upon the Lord.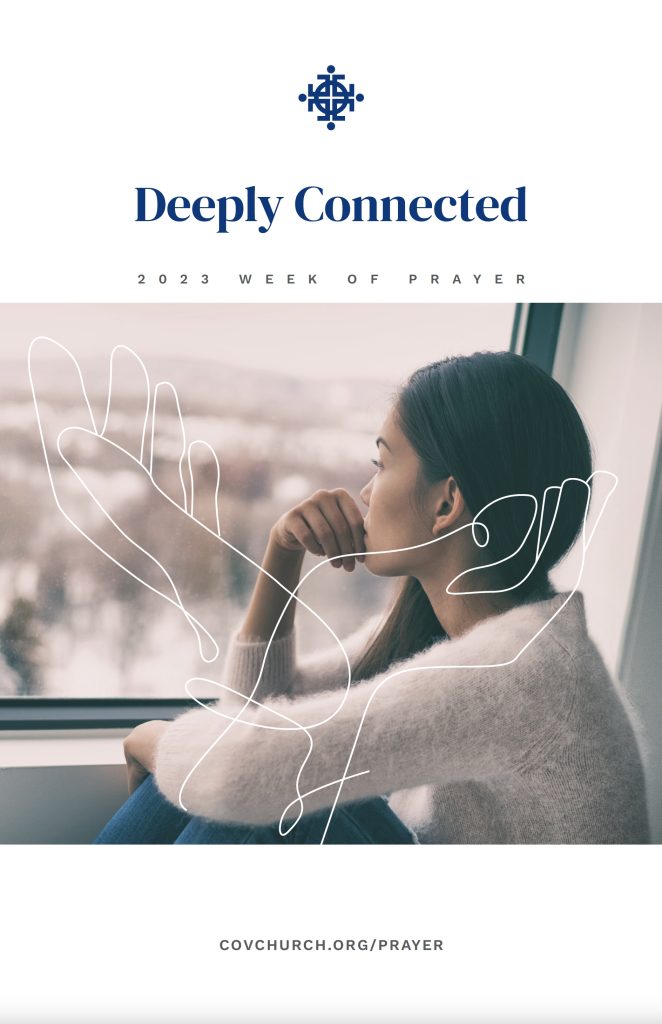 Prayer expresses praise and thanksgiving, confession of sins, confidence in God's forgiveness, supplication for our own needs, and intercession for the need of the world. – The Covenant Book of Worship
Deeply Rooted
Prayer is a continual conversation with God. It comes from a deeply rooted place that is honest, trusted, and even tested. But sometimes as followers of Jesus, we ask ourselves, "Does prayer work?" "Is God listening?" "Am I praying the right way?" "What should I pray about?"
This six-week series will explore how Jesus teaches us to pray, how prayer can influence our communities, and other powerful prayer moments in Scripture. Churches can use devotional, sermon, and promotional resources to equip people to grow in prayer. The goal of this series is to help our churches focus on prayer as we seek God's wisdom and guidance. 
SCHEDULE
May 7
May 14
May 21
May 28
June 4
June 11
Six WEEK PLAN
Six sermons 
Six memory verses (1 per week) 
Six prayer activities (each Wednesday of the series) 
RESOURCES
Sermons 
Devotional Guides (Home Altar) 
Social Media Package  
Weekly Prayer Activities (i.e. guided prayer walks, journal exercises, etc.) 
Media Pieces for Worship and Sermons (i.e. creative worship pieces/experiences, message slides, life change stories, etc.) 
Small Group Curriculum 
Click below to be notified when resources are available.