The book of Jonah is one of the best-loved stories in the Bible—one of the first Bible stories we read to our children. The extraordinary image of Jonah and the big fish has captured the imaginations of artists and writers throughout the ages.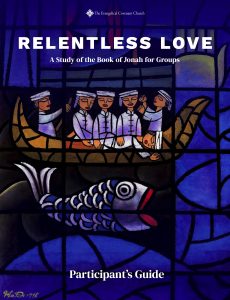 This is a study about a God of relentless love who goes to extraordinary lengths to turn the Ninevites away from wickedness and to bring them into reconciliation with God, with themselves, with each other, and with the rest of creation. It is about Jesus, who calls Jonah a sign that points to his death and resurrection. It is about us, the readers of the 21st century, who are still faced with questions of death and life, of God and humanity, of repentance and reconciliation.
The study takes place over six weeks. In Week 1, we look at the book of Jonah as a whole. In Weeks 2-5, we look at each chapter in more depth. In Week 6 we process and discern how God wants each of us to respond to God's Word in the book of Jonah. In between each session there is a Response Activity to complete, as a practical way to respond to the section we are focused on for that week.
In going through this study on Jonah, your group will walk away with a deeper appreciation of the relentless love of God for all people, no matter who they are or what they have done. Together, you will be inspired afresh to move out of your comfort zone to join God in loving your neighbor as yourself.