LEONARDVILLE, KS (September 30, 2016) – Retired Covenant pastor Dolan Paul Rundquist, age 87, died Monday, September 26, 2016.
He was born on December 13, 1928, in Green, Kansas, the son of Enock and Maude Ellen Rundquist. He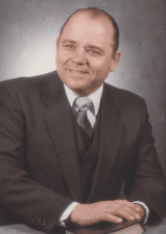 graduated from North Park Junior College in 1951, Bethany College in Lindsborg, Kansas, in 1953, and North Park Seminary in 1958.
On June 27, 1951, at the Alert Covenant Church, he married Barbara Ann Trumpp. She preceded him in death on June 8, 2015.
He served Covenant congregations in Tacoma, Washington; Loveland, Colorado; Whitehall, Michigan; McPherson, Kansas; Stillman Valley, Illinois; and Loomis, Nebraska. He retired in 1993.
He is survived by a son, Darin Rundquist of Leonardville; a daughter, Krista Schoonover (Jerry) of Loves Park, Illinois; and a granddaughter.
Funeral services will be held at 10 a.m. Monday, October 3, 2016, at the Clay Center Covenant Church. The family will receive friends from 4 p.m. to 5 p.m. Sunday at the Anderes-Pfeifley Funeral Home in Riley. Burial will be in the Pleasant Hill Cemetery, east of Green.
Memorial gifts may be sent to Covenant World Relief, 8303 W. Higgins, Chicago IL 60631.