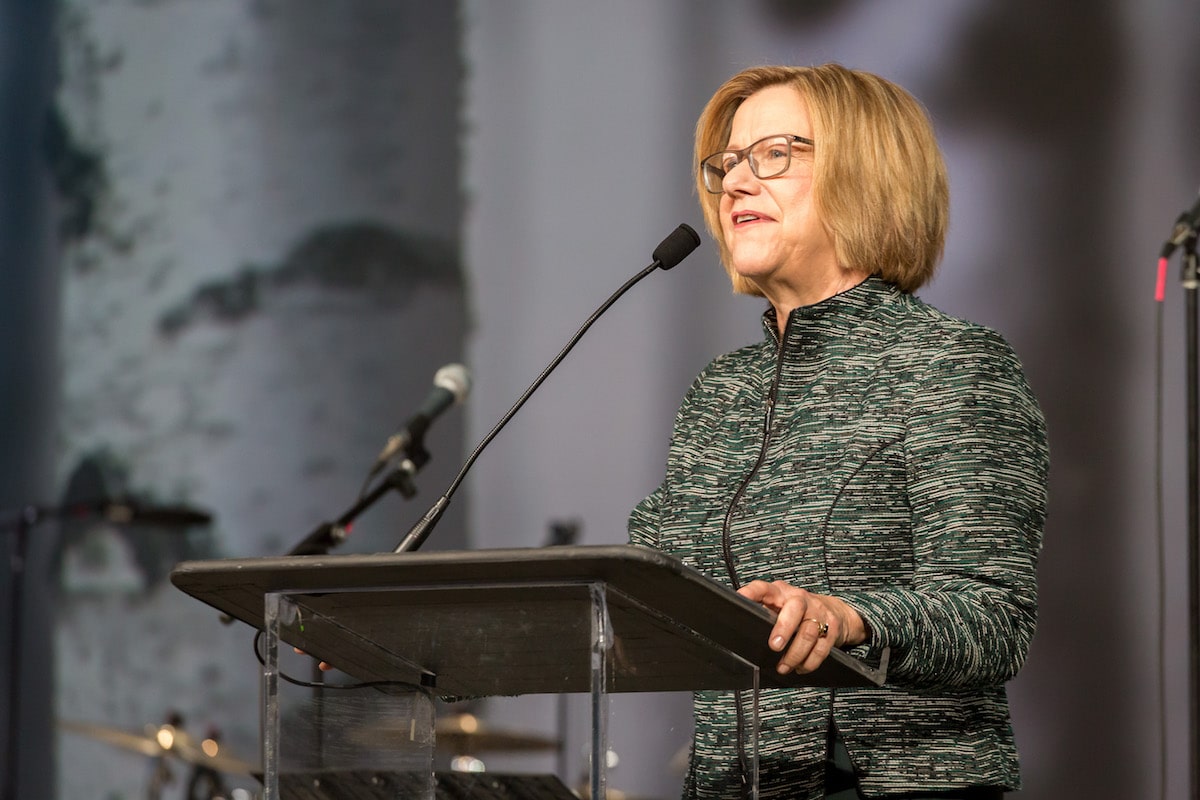 LOUISVILLE, KY (January 31, 2017) – Mary Miller so wanted to be a pastor that being among the first five women in the ECC to pursue an MDiv at North Park Seminary in 1977 didn't dissuade her. Nor did the fact that she had to drive 89 miles each way between Chicago and her home in Rockford, Illinois, to attend classes. Some nights she slept on friends' couches to avoid the commute.
Last night Miller was honored with the 2017 North Park Theological Seminary Alumni Award for Distinguished Service at the Midwinter Conference for ECC pastors. Throughout the past 40 years, Miller has helped lead the way for women in ministry.
She was the first woman to be called to serve a second church and the first to serve as a denominational vice president. She also co-chaired the Biblical Gender Equality Commission. In 2008, the Association of Covenant Clergy Women honored her with the Evelyn M. R. Johnson Leadership Award.
From the time she was a teenager, Miller knew she wanted to be a pastor despite there being no clear path to that goal.  She earned her bachelor of arts degree at Western Illinois University and then enrolled at North Park.
Miller still has all her notebooks containing class lecture notes. When professor C. John Weborg retired from teaching at North Park, she sent him a copy of the notes she took on her very first day of his class.
She was able to find support among the seminary faculty, but finding the same among the churches was sometimes difficult. In the June/July 2016 issue of the Companion, Miller reflected, "It was not an easy road in the beginning years. Getting a superintendent to put my name (or any woman's) into the mix for search committees was a challenge—as was being considered a permanent pastor by the national ministry office. It was assumed I would not be a pastor once I married, or had children, or grew tired of it, etc."
Miller's first pastoral position was as associate at Farmington Hills, Michigan. After her tenure there, she served First Wayne Street United Methodist Church in Fort Wayne, Indiana; the Evangelical Covenant Church in Donaldson, Indiana; and Bethel Evangelical Covenant Church in Flossmoor, Illinois. She also contributed as a columnist for the Companion, and authored Devotions for Those Living with Loss.
Currently she serves as chaplain at Covenant Village in Cromwell, Connecticut. She refers to this stage of her life as "an interior journey." She also teaches a class on Aging as Spiritual Journey.
To anyone considering a call to ministry Miller advises, "Pursue ministry if God won't allow you to let that calling go." She also encourages the people she mentors to take on challenges that might feel daunting—just as she was advised early in her career. "Put on a suit that's too big for you and grow into it."
In his remarks, seminary dean David Kersten said, "I want to celebrate a deep and rich pastoral imagination that has allowed for growth, and invention, and an imagination that has taken on many creative pastoral roles in our midst and our community."
Kersten also said he wanted to celebrate and honor a woman who had transformed deep personal pain into a closer walk with Jesus, adding, "I want to celebrate possibly one of the funniest people on the planet."
To the woman who traveled 180 miles round-trip each day to attend classes and witnessed the Covenant's strides to include women in ministry and who also still works to help the denomination move further down the road, Kersten said, "Thanks for not giving up on us. Thanks for the journey."