[vc_row][vc_column][vc_column_text]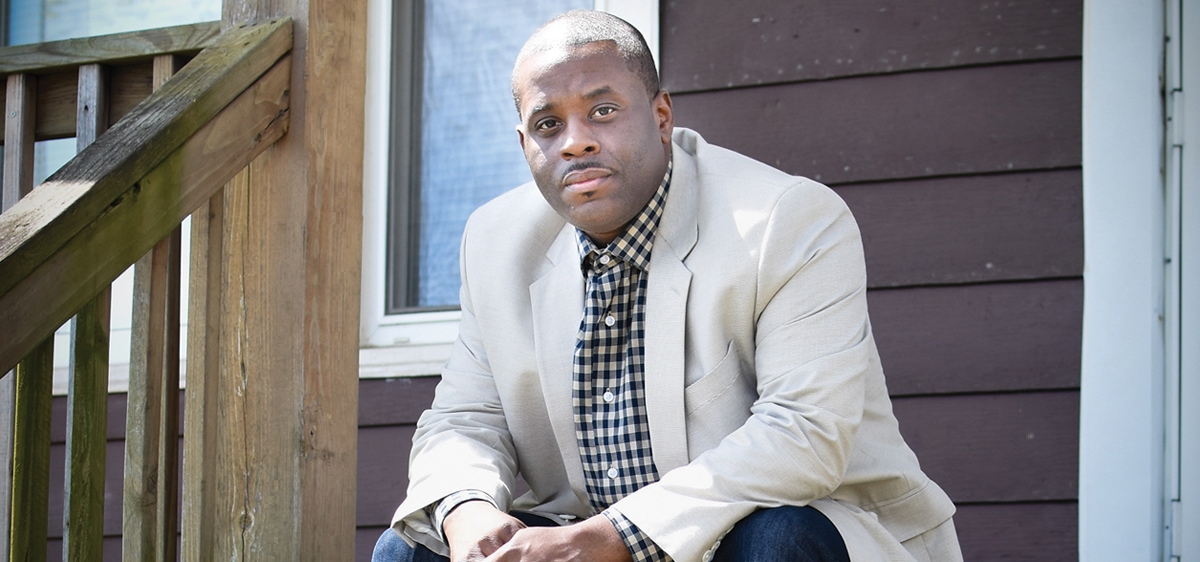 [/vc_column_text][/vc_column][/vc_row][vc_row el_class="hero-header-text"][vc_column][vc_column_text]
Reimagine That
Church Planting: A Shot at Redemption
From gang leader to Covenant pastor, David Washington's surprising journey from violence to grace
By Jill Riley | Oct 2, 2017
[/vc_column_text][/vc_column][/vc_row][vc_row][vc_column][vc_column_text]
To see David Washington standing today in front of his former dope house in Chicago's Roseland neighborhood, it is difficult to imagine the gangs and violence of his teen years.
Yet the clues to his past are still there. Washington, a Covenant pastor and church planter, reaches under the porch to point out the nails where he used to hang "his piece," just in case somebody came to his house and wanted to "start something."
His gentle voice gives no hint that he was a former leader—a first chief—of a gang. A next-door neighbor crosses the yard to give him a warm hug. She points toward her house and the spot in the yard where Washington had lain close to death from a gunshot wound when he was a teenager.
One door down, Salem Baptist Church covers an entire city block. Washington describes a time when his gang, the Gangster Disciples, used to shoot across the church parking lot at members from other gangs who dared approach "his" side of the block. That was thirty years ago, but the violence continues. One recent Saturday hundreds of young black teens gathered on the sidewalk in front of the church. They were attending a funeral service for one of their friends.
"Every day we bury these kids," Washington laments.
Washington grew up on the far south side of Chicago during a volatile time. In the 1980s "as more African Americans and Latinos moved in, the white people left," he explains. The neighborhood was caught up in a vicious cycle of drugs, money, and guns.
His own life in gangs began when he was in middle school, "during my most impressionable years," he says. At a time when many kids are just beginning to interact independently with peers, Washington was learning the trade of buying and selling drugs. He did not set out to become part of the Gangster Disciples. "It was just the part of the community I grew up in. Whether we claim it or not it was just who we were. We were the Gangster Disciples. You had to dress hard. You had to look hard. Looking hard could protect you. You couldn't be seen as the weak person. I didn't start trouble—but I didn't back away from it either. Nothing scared me and I didn't give in for nothing."
Drugs were showing up everywhere, Washington says. "Crack cocaine came on the scene and it changed the game. We could make more money off crack than off powder cocaine. Also, crack was way more addictive than cocaine so our customers were loyal," he explains. "We were making so much money. First the drugs and then we were able to get guns. We got three machine guns for $1,000. It became a war zone. We didn't know we were kids. We had to do what we had to do to live. If you had a gun you felt untouchable."
Washington cannot count how many of his friends were lost to gang violence. He has kept a large stack of obituaries of those who died.
The first time Washington was shot he was seventeen. The bullet went through his wrist and the blood spilled out of his arm, hitting the ground with such force it sounded like a running faucet. He almost died in the yard near his house.
When police arrived and assessed the situation, they said, "He's just a gang banger. Why don't you lay him over there 'til he dies. He want to bang? Let him die."
EMTs stepped in and saved his life.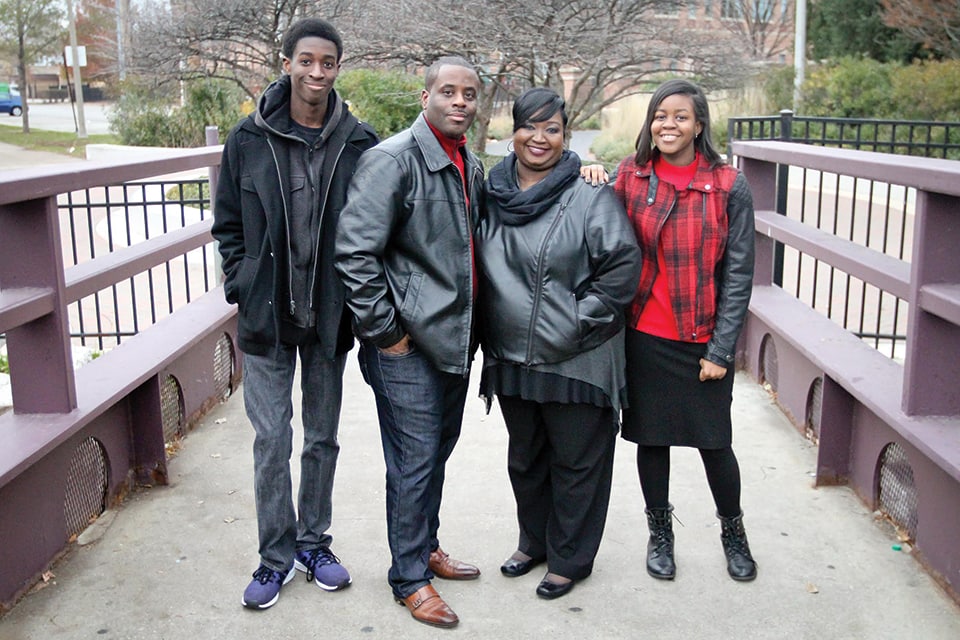 Washington was the only one of the six children in his family to be deeply involved with gangs. "I put so much stress on my mama," he says. "One of my friends was killed right outside our house. My mom's porch is shot up with AK bullet holes."
In 1990, Salem Baptist Church, then a young congregation, moved into the neighborhood, two doors down from the house where Washington's drug deals were made. Led by the Rev. James Meeks, the congregation bought what was formerly St. Salumea Catholic Church, convent, and school, founded at the turn of the last century. The church was literally in the middle of the gang war zone.
On one side were the Mickey Cobras and Black Stones; on the other, the Gangster Disciples. "The church was in the crossfire," Washington says. "We literally chased people inside the church. One time we strolled past the church to get into our van and the Black Stones shot at us. We drove away, hitting church cars. People who were parking for church were just trying to get out of the way." 
One day Washington's mother paged him "911," saying, "I need you to go with me to meet some people."
"She was giving me really limited information," Washington says. "I get home and find out she was taking me to church! We get there and all my homies are out there with their mamas! And my enemies were there with their mamas! We found out later Reverend Meeks had gone to every house and introduced himself to the moms in the neighborhood. He had seen all the fighting, and he told them, 'If you want to save your child's life, get them down to the church at 7:00 tonight.'"
Eventually Meeks helped broker the first peace treaty between gangs. "We had a different respect for the church after that," Washington says. The young gang members didn't attend church, but they began to build relationships with Meeks and the church's youth pastor, Harvey Carey, who is now pastor of Citadel of Faith Covenant Church in Detroit.
When he was eighteen Washington's life took a significant downturn. He'd been charged with aggravated kidnapping, armed robbery, and various drug offenses. The last straw was when he was caught with two sawed-off shotguns. "I had been arrested many times. I always got lawyers and paid the bonds. But Judge John E. Morrison in courtroom 701 told me, 'I'm going to make sure your bond is so high that Donald Trump can't even pay it!' He was getting ready to slam the book," Washington says. His lawyer worked out a plea deal with a fifteen-year sentence, which meant he could be released in seven or eight years. "That was the best we could do. I was getting ready to go to jail."
The night before his sentencing, Washington held a goodbye party. In the middle of the evening he looked around the room and realized no one was even thinking about him—they were just looking for an excuse to party. "I saw myself in the mirror and God pulled the veil from my eyes and spoke to me: 'You're not even twenty-one years old. You are throwing your life away!' At that point I hoped God was real because only God could change my situation," he says.
Washington began to talk to God out loud. " If you can get me out of prison in a year or two, nobody will ever be able to tell me God doesn't exist."
Washington began to talk to God out loud. He said, "If you are real and can hear me, I have tried everything except you. I don't deserve for you to do anything for me but please give me a year or two to show I can live for you. Give me an opportunity to change my life. If you can get me out of prison in a year or two, nobody will ever be able to tell me God doesn't exist." 
The next day the arresting officer in the kidnapping case didn't show up to court. Neither did the probation officer. The victim, a rival gang member, didn't show up. As a result, the judge was forced to lower Washington's cases down to simple robbery. He was released with a year of house arrest, three years of probation, and 200 hours of community service.
"I walked out of there terrified because it dawned on me that God was real. God had really changed the game," Washington says.
He did his 200 hours of community service at Salem Baptist Church, working with Harvey Carey. He started a Christian rap group with some of his former enemies. They traveled around the country performing, visiting prisons, ministering to rival gangs.
Washington didn't officially quit his gang. "I didn't abandon my homies," he explains. "I was just so different they didn't want to be around me."
Soon Carey challenged him to pursue his education. He enrolled in junior college. He got married. He worked for a while, then enrolled at Moody Bible Institute. As soon as he graduated from Moody, he enrolled in the MDiv program at North Park Theological Seminary. When he finished, he was hired on staff at Oakdale Covenant Church in Chicago. He served there for seven years. Then he started feeling pulled into ministry that was more grassroots. "God was reminding me of my passion to be engaged in the streets and pulling people out of the darkest things." But he had no intention of planting a church. He'd done enough ministry to know how hard it would be to start from nothing. Yet as he pursued his options, doors kept opening in that direction. As he and his wife prayed seeking discernment, Washington heard God speak.
"It was like that moment when God told Moses to go back to Egypt. I was so relieved—it suddenly made sense. All of those years in Roseland God was preparing me for this moment. I still had connections and was still doing ministry there. I could still walk into a crack house, still walk up to the dudes that have bangers on them."
So Washington planted Kingdom Covenant Church in his old neighborhood. They held their first service on September 11, 2016. "I wanted to open on 9/11, putting the emphasis on the immediate, emergent need for God," he explains.
The challenges he faces are real. "I know I am not going to see the number success we might see in another area," Washington says. Conventional wisdom says a church needs 100 people to be sustainable. "But in my context we'll need 300. We know that as an urban church we have to partner with other churches to be able to sustain ministry."
To supplement the funding they receive from the denomination, Kingdom Covenant is partnering with several other Covenant congregations in Illinois: Winnetka Covenant Church, Evangelical Covenant Church in Princeton, Glen Ellyn Evangelical Covenant Church, and Community Covenant Church in Calumet Park. Their combined support covers one-third of Kingdom Covenant's costs. The denomination covers one-third, and the congregation comes up with the remaining amount.
"We know that the kingdom has all the resources to support whatever God is doing. There is no shortage in the kingdom," Washington says.
It's been a long road from the day Washington's mother paged him "911." He says, "The reason I am in church, the way I came to faith, is because somebody went out and got me. This is not glamorous. It's slowly walking with people. Church planting is not what I do. I shepherd God's people. That's what I do."
[/vc_column_text][/vc_column][/vc_row][vc_row][vc_column][vc_column_text]
This article is part three of a three-part series titled:
[/vc_column_text][/vc_column][/vc_row]