CHICAGO, IL (June 15, 2018) – President Gary Walter has joined other Christian leaders in calling on the Trump administration to change course on its "zero tolerance" policy at the U.S.-Mexico border that is dividing children from their parents. Nearly 2,000 children, many as young as infants, have been separated over the past two months according to government figures.
Walter is a signatory to a letter authored by the Evangelical Immigration Table and sent to President Trump.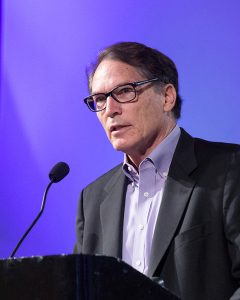 The letter says, in part, "As evangelical Christians guided by the Bible, one of our core convictions is that God has established the family as the fundamental building block of society. The state should separate families only in the rarest of instances. While illegal entry to the United States can be a misdemeanor criminal violation, past administrations have exercised discretion in determining when to charge individuals with this offense, taking into account the wellbeing of children who may also be involved. A "zero tolerance" policy removes that discretion with the effect of removing even small children from their parents. The traumatic effects of this separation on these young children, which could be devastating and long -lasting, are of utmost concern."
Walter said, "God gives children family for protection, direction, and provision. It is traumatic whenever that familial security is not in place for whatever reason. Given the broad discretion of government in these cases, separation should only take place in the most cautious, exceptional circumstances, not under a zero-tolerance policy."
He recalled a terrible fright he experienced as a young boy, when he thought he had been left behind on a train by himself. "Everyone can remember a childhood panic from being unexpectedly separated from their family," Walter said. "I can't imagine the terrifying, disorienting wounds of forcible separation."
Walter also underscored the importance of speaking out on this issue on behalf of the many Hispanic families and individuals who call the ECC their home. "These are not vague policy debates. These events are devastating to our Covenant brothers and sisters. My signing the letter is an expression of our solidarity."
Among other signatories to the letter are Samuel Rodriguez, President, National Hispanic Christian Leadership Conference; Russell Moore, president of the Southern Baptist Convention's Ethics & Religious Liberty Commission; Rich Stearns, President, World Vision U.S., and Jo Anne Lyon, General Secretary Emerita of the Wesleyan Church. The U.S. Catholic Bishops have recently released a similar statement.
The EIT works from a set of biblically guided principles in addressing comprehensive immigration concerns.
To read the Covenant's 2016 resolution on immigration, click here.