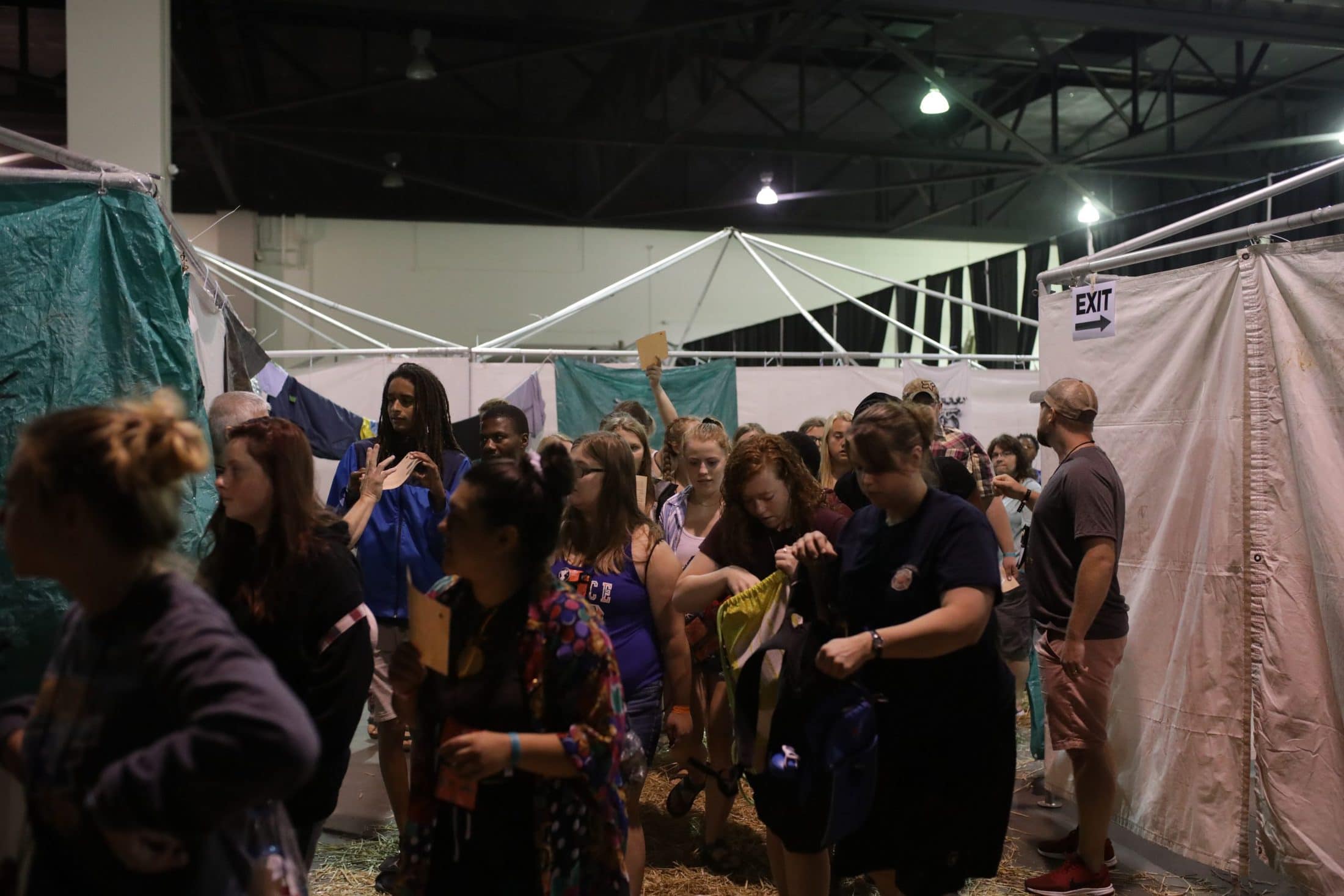 KNOXVILLE, TN (July 17, 2018) — The students are grouped into fictional families from either Syria or South Sudan. Some play the role of a doctor working in a hospital, some work as farmers in the field, others play children who attend school or play soccer. Suddenly loud sirens accompanied by people shouting and giving orders disrupt their daily activities. In the ensuing chaos the "families" are split up, and eventually hundreds of students are unceremoniously herded into makeshift tents.
It's a disturbing scene. And it forcefully illustrates a hint of what people experience in their homelands when they are displaced by conflict or crisis and forced to flee.
This is the Refugee Journey at CHIC, hosted by Serve Globally. Once in the tents, students view video testimony from families who have fled their homes in Syria and South Sudan.
Cindy Wu, who recently published A Better Country: Embracing the Refugees in Our Midst and serves on the ECC Executive Board, helped the students debrief.
One student told the group, "I didn't know where to go. I lost my ID card, and no one would let me in the tents—they kept saying, 'Go over there, no, go over there.'" That confusion is common and disorienting. Carolyn Poterek, a CHIC volunteer who teaches in the School of Education at North Park University, told students, "Normally I'm way nicer than I was to you when you came in. The government workers typically make no effort to be kind to the people in the refugee camps."
When asked what they'd learned from the experience, one student said she didn't realize that refugees still long to return home. "I thought once they got out, they were glad to escape. I didn't know they still wanted to go home."
Another was deeply affected by the video testimony he'd viewed. "They talked about being separated from their relatives. I'm really close to my family. I could never deal with losing any of them," he said.
"What do these stories have to do with your life?" Wu asked. "We are all sojourners. Before Christ we were separated from God. He adopted us, made us citizens of heaven. Now we seek a better country. Remember your sojourner identity."
Congregations interested in becoming more aware of refugee stories, engaging with issues of injustice faced by refugees, and working together to raise funds to respond to the refugee crisis around the world can host their own Refugee Journey. Download resources here.
To give to Covenant World Relief's work with refugees, go here.