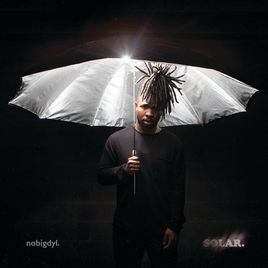 Solar
nobigdyl.
Label: Capitol CMG Label Group
Released June 15, 2018
Reviewed by Zachary Lee
In his book Who God Says You Are: A Christian Understanding of Identity, Klyne Snodgrass, North Park Theological Seminary emeritus professor of New Testament, writes, "We were created as relational beings, first for relation with God but also with others, as difficult as relations sometimes are. You will never make it on your own, nor will you be healthy trying to." Yet community can be a tricky thing. As Christ-followers, we experience a tension: we share and do life with others, yet at some point we are inevitably wounded by relationships.
With a powerful testimony and a convicting narrative voice, hip-hop artist Daylan Phillips, better known by his stage name of nobigdyl. (pronounced "no-big-deal"), dives into this topic of conflict within community with his latest album, Solar. Incorporating a variety of artistic influences, from pop to rap to trap, Solar is an honest look at the relationships that define our lives, whether between friends, God and humans, or men and women.
In some way, these relationships are broken. For nobigdyl., reconciliation involves not an avoidance or denial of wrongdoing, but bringing one's fears and insecurities into the light, as well as a willingness to speak grace and truth in those areas. Across Solar's thirteen tracks, nobigdyl. celebrates confession as a freeing and ultimately imperative act for fully realizing God's design for community.
From the beginning, nobigdyl. shows how romantic relationships, though gifts from God, can become idolatrous if we find our sense of worth and identity in them. In "Block Me Back," he recounts catching his girlfriend cheating with his best friend. As he works through the betrayal, he says, "But all the time God is good I know the saying's true (true) / He gave us space and lots of grace, and I've forgiven you."
He continually seeks that grace. In "Be a Man" he confesses, "Got a hole in my conscious, / boys will be boys, bodies are toys, I was raised with the nonsense / Treat the girl like a barbie." Featured artist WHATUPRG admits to his own hypocrisy, stating, "I might be the reason why my friends don't turn to Jesus / I been holy on the surface but a heathen in the DMs (direct message)." Both rappers admit that their sins can damage relationships and they resolve to confess and seek healing.
On "Close," the most powerful track on the album, nobigdyl. ends the journey he took through Solar with a powerful realization. He engages in a dialogue with God, saying, "Grab me by my hand and I felt the spirit movin' my heart/ Said I'll live again and that all I did is nailed to the cross / I could never estimate the price you pay to forgive my fault then." Realizing that he is an undeserved recipient of God's costly grace, nobigdyl. radically gives himself over to his fellow brothers and sisters. True community thrives, nobigdyl. realizes, when people love each other with Christ's love. To love well requires sacrifice and vulnerability. Solar is an anthem that champions how the Son's love will shine through any darkness we may face.