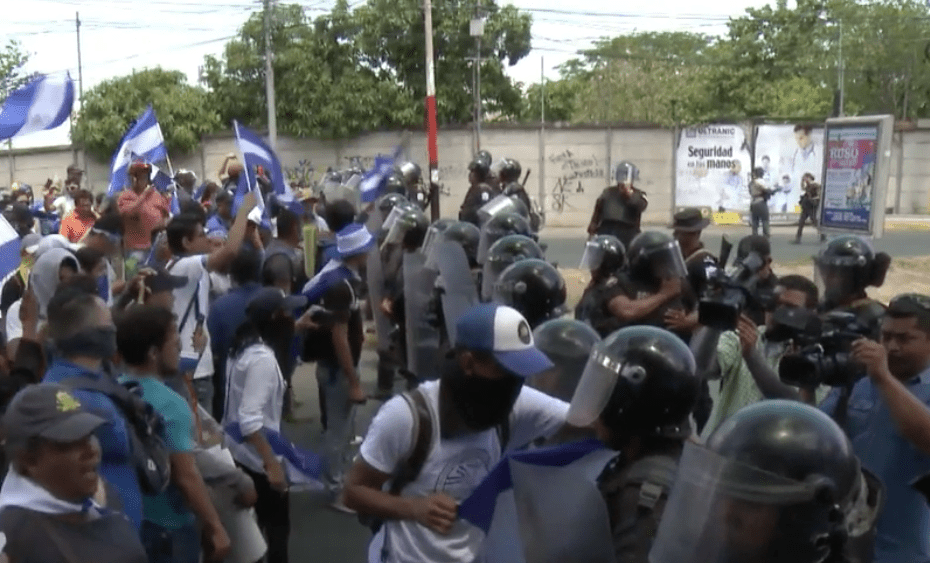 MANAGUA, NICARAGUA (September 6, 2018) – A Managua couple who has worked with Serve Globally leading mission teams in this country is now seeking to flee to the United States after being stopped several days ago at gunpoint and told they needed to support President Daniel Ortega amid the civil war breaking out in the country.
The armed men who stopped them—presumably backed by the government—took pictures of the couple and their car, said Dale Lusk, who works with Serve Globally. For the past three months, the couple has had to pay $50 a week to a gang—also presumably connected to the government—for "protection." People in unmarked cars now park outside their home as a further threat.
"They had hoped to be able to stay in the country they love so much but now it is too dangerous for them to stay in Nicaragua," Lusk said. (Their names are being withheld for safety reasons.)
The husband has worked with Serve Globally to arrange and guide mission trips to Nicaragua for eight years, Lusk said.
The couple's daughter graduated from North Park University last year and is living in the Chicago area. The family sent their teenage son to live with her as the violence worsened.
The couple hope to join their children as soon as possible but need to raise $6,000 to travel to the United States and take care of other initial expenses, Lusk said. Serve Globally has been providing funds from its benevolence fund to help the family.
The family has a tourist visa that would allow them to stay for six months. Naperville (Illinois) Covenant Church and Faith Covenant Church in Wheaton, Illinois, have volunteered to house, feed, and provide transportation after the couple arrives.
Once they arrive in the US, the couple will weigh whether to apply for asylum, a decision that will be based on conditions in Nicaragua.
Anyone wanting to help the couple can contribute to the Serve Globally International Benevolence Fund. Contributions can be made online, and donors should write "Nicaragua" in the memo. Checks should be made to the ECC with a note that it is for the Serve Globally International Benevolence Fund # 5003-2246-50-30 and put "Nicaragua" in the memo.
The country has come closer to descending into chaos since April 18, when demonstrators in the capital city of Managua protested severe cuts in pensions and social security. It is a path that Venezuela has taken."The government responded with a violent crackdown. At least 300 people have been killed and another 2,000 arrested.
On Wednesday, US Ambassador Nikki Haley told the United Nations Security Council, "With each passing day Nicaragua travels further down a familiar path. It is a path that Syria has taken."
A UN report last month documented "disproportionate use of force by the police that sometimes resulted in extrajudicial killings; enforced disappearances; obstructions to access to medical care; widespread arbitrary or illegal detentions; prevalent ill-treatment and instances of torture and sexual violence in detention centres; violations of freedoms of peaceful assembly and expression, including the criminalization of social leaders, human rights defenders, journalists and protesters considered critical of the Government. At the time of writing this report, the number of protests has decreased which indicates the chilling effect of repression."
Armed civilians who support Ortega have been mobilized into "shock forces" or "mobs" that attacked and harassed protestors, "often in a joint and coordinated manner" with police.
Zeid Ra'ad Al Hussein, the UN high commissioner for human rights, called on foreign governments to intervene. "Repression and retaliation against demonstrators continue in Nicaragua as the world looks away," he said.