OKLAHOMA CITY, OK (September 12, 2018) – Three-time Nobel Prize nominee Elias Chacour will headline a list of speakers that include several friends of the Covenant at the first Christ at the Checkpoint USA conference to be held here 0ctober 15-18.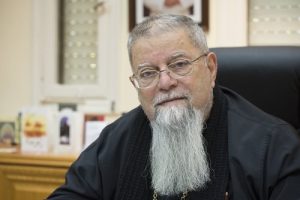 The event is designed to inform and engage Christians on the issues that have plagued the Holy Land and also to provide opportunities to connect with Christians who live there.
The first Christ at the Checkpoint (CATC) conference was held in Bethlehem in 2010 as an outreach event hosted by Bethlehem Bible College seeking to answer the question, "Where would Jesus be if he were in Bethlehem today?" Several conferences have been held since then.
Covenant minister Mae Cannon, who serves as executive director of Churches for Middle East Peace, and Joel Willetts, professor of biblical and theological studies at North Park University, will be among the speakers.
The Middle East North Africa (MENA) region of Serve Globally is offering up to 10 scholarships of $100 off the registration fee for people who have not attended a CATC conference before. The funds were raised through a Friends of World Mission appeal.
People interested in attending the conference are asked to contact Serve Globally at serveglobally@covchurch.org. Scholarship applications can be made at the same email.
Jeff Anderson, MENA regional coordinator, said the conference will be invaluable for those who attend. "The discussion about the status of Israel and Palestine is highly complicated, political, and usually revolves around issues between Jews and Muslims," he said. "Often forgotten in the discussion is the place of Jesus's followers; CATC seeks to address this critical part of the narrative. Those who attend may or may not change their political or philosophical position, but they will be better informed by having invested the time to attend the conference."
Cannon agreed with Anderson, adding that the complicated and seemingly intractable conflict also can be narrowed to one simple issue. "It's about two peoples and a limited parcel of land and resources. Both people groups, Jews and Arabs—including Muslims and Christians—have historic ties to the land and at various times in history have received promises by foreign governments for what sovereignty over that land might look like."
Those contradictory promises made by the United Nations and others have often been broken, which has fed into the violent conflict. "As recently as the second intifada, the methodology employed for Palestinian resistance included suicide bombers in restaurants, on buses, and in Israeli neighborhoods," said Cannon, whose previously served as the senior director of advocacy and outreach for World Vision-US.
"For Palestinians, the Israeli military policies of disproportionate responses cause devastating damage and hundreds of deaths of civilians living in the occupied Palestinian territories, especially in Gaza, where there have been three major military operations since 2008," Cannon added. "Hundreds have been killed and thousands wounded as a result of these escalations in conflict. The daily reality for Palestinians who have lived under military control for more than 50 years often leaves them with a lack of hope for the future."
Chacour, who served as archbishop in Melkite Catholic Church for Akko, Haifa, Nazareth, and all Galilee, was nominated three times for the Nobel Peace Prize for his work in the region. He is the author of Blood Brothers, which has been translated into more than twenty languages, and We Belong to the Land. A 2011 book, Blessed Are the Peacemakers is written for middle-schoolers and tells Chacour's story.