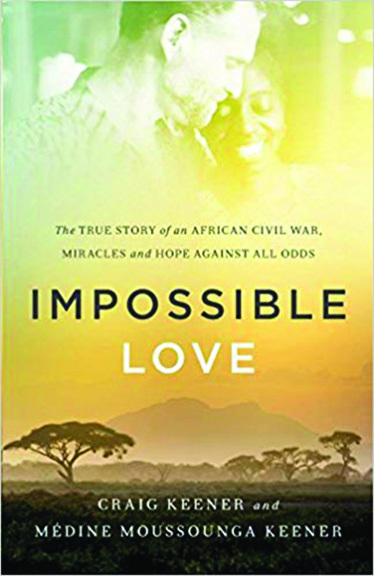 Impossible Love:
The True Story of an African Civil War, Miracles and Hope Against All Odds
Craig S. Keener and
Médine Moussounga Keener
Chosen Books, 240 pages
Reviewed by Al Tizon | October 11, 2018
A caveat: I know and adore the authors of Impossible Love. I used to work with Craig and Médine Keener when we were all associated with Eastern University near Philadelphia. So if you're looking for an objective, dispassionate review of this book, then mine will likely not do much for you.
Then again, if you're the objective, dispassionate type, this book is likely not for you anyway. It is at the core a love story made beautiful not by perfumed sentimentalism but by survival, pain, strong friendship across the miles, prophecies and miracles, and uncompromising faith in Jesus Christ—the epitome of sacrificial, miraculous, impossible love.
Part of the intrigue of this book lies in the fact that Craig is a renowned New Testament scholar, professor at Asbury Theological Seminary in Wilmore, Kentucky, and author of dozens of books and commentaries. And Médine is a PhD graduate from the University of Paris and serves as the pastoral care coordinator of Formation Ministries also at Asbury. In Impossible, we see another side to them; we see people enduring trials many others have experienced—divorce, hard choices, rejection, racism, and abuse—and trials that most of us cannot relate to at all, such as fleeing civil war, hunger, encounters with soldiers, and surviving in the jungle. We see in Craig and Médine best friends who develop a loving relationship through these trials. We see faithful followers of Jesus who depend on the God of miracles to lead, guide, protect, and enable them not only to survive but to flourish. When two brilliant scholars are willing to share their story in honesty and vulnerability, we should take notice.
The impossibility of this love story lies on several levels. While Craig had to overcome the stigma of divorce and interracial remarriage in the context of a hyper-conservative Christian culture, Médine was on the run for her life as a refugee with her son, David, and other relatives from war-torn Congo Brazzaville. Of special interest to Covenanters, Médine grew up in the Église Evangélique du Congo, the Evangelical Church of Congo, which was founded by Swedish Covenant missionaries in 1909.
Craig and Médine met at Duke University through InterVarsity Christian Fellowship campus ministry. Craig was a doctoral student at the Divinity School, while Médine was an exchange student also working on her doctorate. Despite romantic feelings that in retrospect they did their best to deny at the time, they assumed that the racial and cultural gaps between them made it unlikely that anything permanent would ever result. A genuine friendship developed, however, enough that in Médine's words, "I knew that if my letter reached him, he would never stop praying until he learned of my fate."
And pray, he did. They wrote each other constantly, hoping against hope that their letters were reaching each other. It was amid this extremely difficult season, which required extraordinary faith and patience, that Craig and Médine began to sense God's beautiful will for them to move beyond friendship, deep as it was, to being united as husband and wife.
The path leading to their ultimate reunion in the United States was anything but straight, as it included legal red tape, complicated divorce laws, post-traumatic stress syndrome, and painstaking waiting. I don't want to give away too many of the twists and turns of their story. Suffice it to say that through it all, their love for each other grew stronger, as they stayed centered in Christ.
Impossible Love is indeed a love story between a man and a woman across racial, cultural, and geographical divides amid violence and war. But ultimately, it is a love story between two human beings who love God. Together they testify to the truth that what is impossible in human terms is made possible in Christ.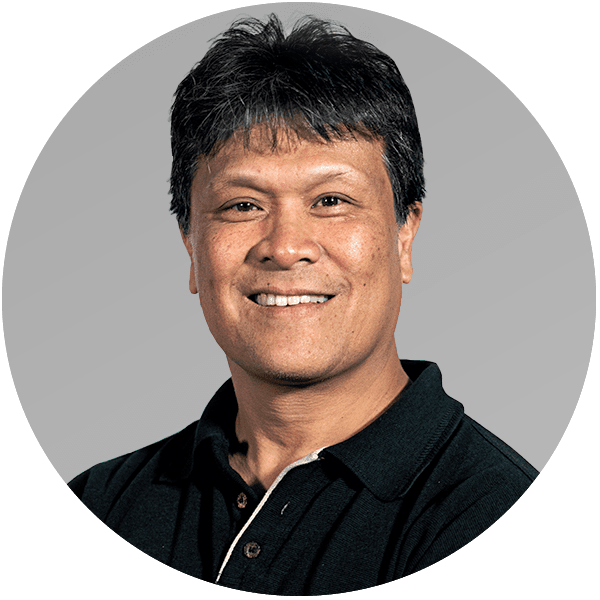 About the Author
Al Tizon is the executive minister of Serve Globally. He lived in Manila, Los Angeles, Seattle, Honolulu, and the Bronx before the age of twelve.