CHICAGO, IL (December 9, 2018) – Throughout the Advent season, Covenant Newswire is highlighting daily gift selections from the CovenantCares giving guide. Through the free annual catalog, Covenanters can partner with brothers and sisters around the globe to give gift donations that will help serve communities and advance God's work in many areas.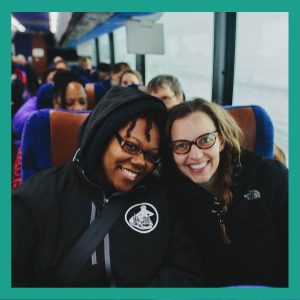 Today we are highlighting scholarships for Sankofa. Sankofa is a cross-cultural bus journey to critical sites of the civil rights South. On this three-day immersion, participants build relationships of trust in an environment of grace so they can consider how together they might better address racial righteousness in our church, our nation, and our world.
The journey reflects the African proverb, "If you want to go fast, go alone. But, if you want to go far, go together."
One journey participant said afterward, "The main thing was not feeling alone, because I'd met these 33 other people who were thinking about the same things. One of the other things I appreciated was debating with some of the people. It was like iron sharpening iron."
On one Sankofa, members of three churches – one primarily white and the other two African American – traveled together and drew the congregations closer. "The importance of history and the importance of experiencing a connectedness between folks from different races, ethnic backgrounds, and traditions is what brought us together," said one participant.
Your gift will help provide a scholarship for participants. This and other missional gift-giving options are available now through CovenantCares Gifts for Mission. Please join us in advancing the mission.