CHICAGO, IL (December 10, 2018) – A memorial service for Lillian May Johnson, widow of Covenant minister Dwight Johnson, will be held at 3 p.m. on Saturday, December 15, at Ravenswood Covenant Church. She died Saturday, November 24, at the age of 89.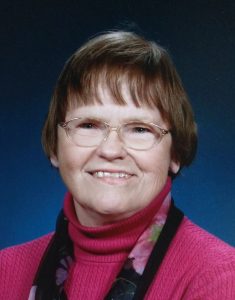 May was born January 11, 1929, in Sioux City, Iowa, to Henry and Marjorie (Ford) Hedeen.
She graduated from Morningside College and from Methodist Hospital School of Nursing. She studied Christian education at North Park College, where she met Dwight L. Johnson. They were married on September 11, 1954.
They served together in pastoral ministry in Evangelical Covenant churches in Beresford, South Dakota; Minnedosa, Manitoba; and Saskatoon, Saskatchewan. In 1967, the couple moved to Chicago, where she worked as a nurse at Swedish Covenant Hospital, and alongside Dwight as he worked at North Park College and served as pastor of visitation at Ravenswood Covenant Church.
After Dwight's death in 1990, May continued as a nurse until she retired in 1992.
May is survived by her daughter, Christine (Robert) Susman; four sons, Neal (Marie), Mark, Jeffrey (Anita), Gregory, and daughter-in-law Melodie, as well as 16 grandchildren and nine great-grandchildren.
Visitation will be at 2 p.m. at Ravenswood Covenant, 4900 N. Damen Ave, Chicago.
In lieu of flowers, contributions can be sent in memory of Lillian May Johnson to Covenant Harbor Bible Camp and Retreat Center, 1724 W. Main Street, Lake Geneva, WI 53147, or to your favorite Christian ministry. Cards for the family may be sent to 3850 W. Bryn Mawr #406, Chicago, IL 60659.