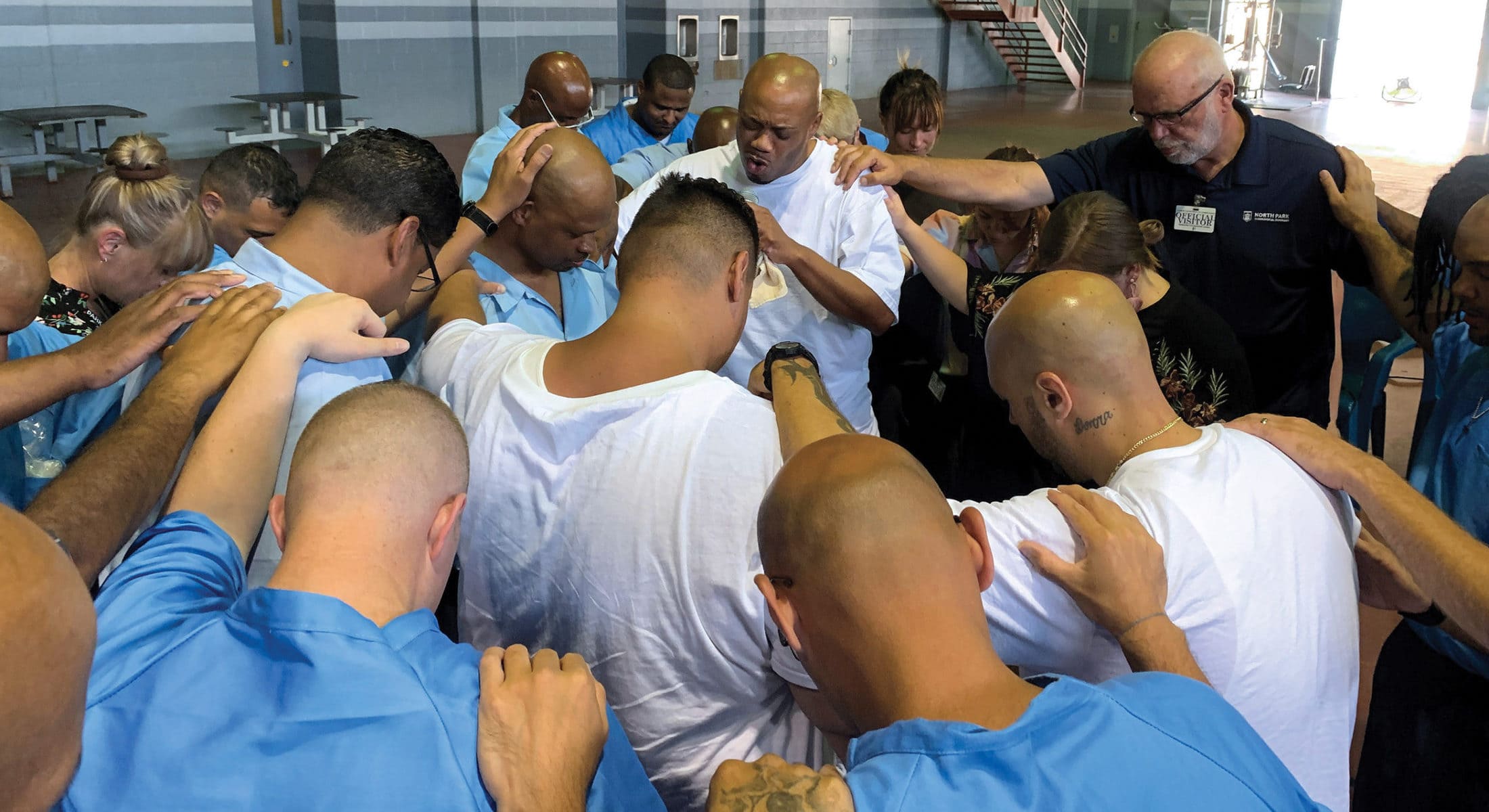 Pardoned
How a life sentence in prison became
the place of call for Smiley Parham
by Stan Friedman | April 28, 2020
Fifty-year-old Oscar "Smiley" Parham was just five years old when his father had a heart attack and died in front of him. The loss of his father, who owned a landscaping business in Zion, Illinois, a small town north of Chicago, devastated the family financially. Despite his mother's best efforts to provide for her eight children, of whom Parham was the youngest, the family was forced to move into subsidized housing. Fred Parham Sr. had been the disciplinarian whose guidance steered Parham's older siblings away from trouble. Without the benefit of that discipline, Parham says, he became rebellious in his new neighborhood.
He showed promise as a baseball player and could throw an 80-mile-per-hour fastball at the age of 14. But as in every other area in his young life, he says, he lacked the discipline to pursue that opportunity. By the time he was 16, Parham had dropped out of school. Together with several friends and one friend's father, he formed a gang they called "the family."
He was pulled by the allure of "the street," he says. "All your friends were out there. You're young. And there's this money. Even if my mom gave me money, it was never enough. I always wanted more. Then you see people with hundreds and thousands of dollars."
In 1988, when Parham was 18, a fellow gang member shot and killed two men in the midst of a drug deal. Parham says he was in Chicago at the time, 45 miles away from the scene, but prosecutors argued that he and other gang members were there and charged him and four co-defendants with two counts of first-degree murder. He was charged under the "theory of accountability," which under Illinois criminal code allows associates of the person who pulled the trigger to be charged with the same crime.
"I don't know how I went from being able to be redeemed
in five years to being beyond redemption. "
Although Parham had recently served time for drug possession, he had no history of violent crime. The prosecutor offered him a plea deal: Plead guilty to the murder charges and receive an 11-year prison sentence. With good behavior, he could be released in half the time—five and a half years.
But Parham didn't want to plead guilty to something he hadn't done. He says his attorney told him he could win the case, so he turned down the offer. It was a decision he would come to regret.
The jury found him guilty. Because two people had been killed, the judge, who had agreed to the earlier plea offer, handed down the only sentence he could: mandatory life in prison with no possibility of parole.
"I don't know how I went from being able to be redeemed in five years to being beyond redemption," Parham says. "I thought I'd be coming home in a couple years. I figured I'd win on appeal."
But he lost his appeal, in which he contested the evidence presented against him at the trial. Later he filed two post-conviction petitions, citing new evidence and alleging ineffective counsel. Both were declined.
Meanwhile, one of his co-defendants took a plea deal and received a six-year sentence. Another received a 20-year sentence, but after giving testimony at other trials, he, too, was released after six years. The person convicted of having fired the gun and the older gang members are serving life in prison without parole.
Parham was sent to Menard Correctional Center, in Chester, Illinois, the far southern tip of the state. It was there on January 1, 1998, that he gave his life to Christ. "My mother raised me in church, and I'm glad she did. She always told me, 'Trust in the Lord.' So I knew where I could return to," he says.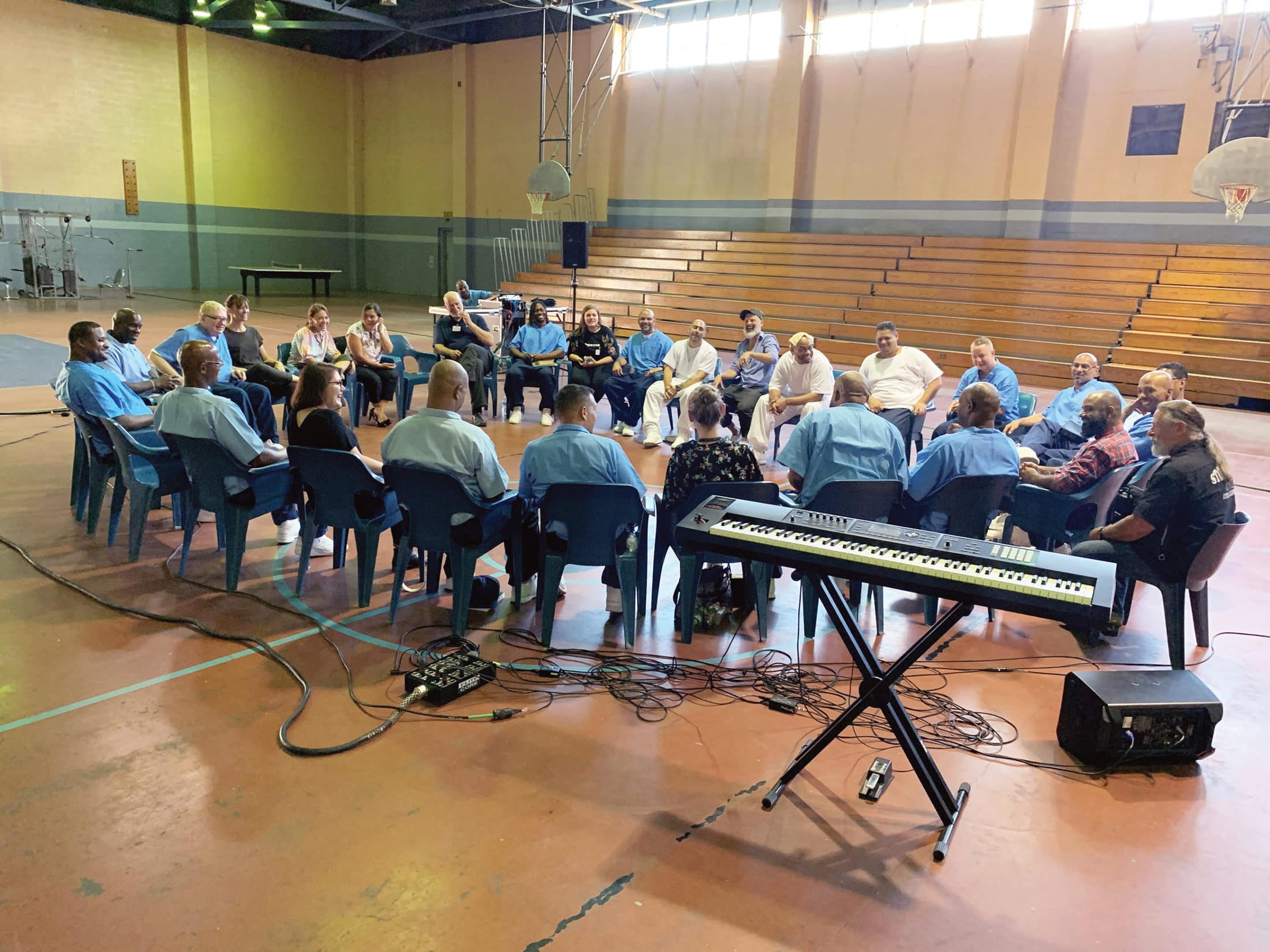 Parham eventually was assigned to work in the kitchen. He had stayed out of trouble throughout his sentence, but in 2014 he and his coworkers were caught trying to sneak some food out of the kitchen. "The other guys had meat and all kinds of stuff. I had four cookies," he says. For the offense, all of them were placed in segregation for 17 days, then dispersed to different prisons across the state.
Parham wound up at Stateville Correctional Center, about 40 miles south of Chicago. It proved to be a turning point in his life. Although he was initially angry about the transfer, he now looks back on it as "a God thing."
At Stateville he got involved in Bible studies and started taking university-level courses, beginning with a seminar on mass incarceration. Guest lecturers came to the class, including award-winning journalist Alex Kotlowitz, who assigned a writing exercise in which students described their cells.
Parham wrote "My Prison Cell: A War Against the Roaches," recounting his transfer from a cell he had kept meticulously clean to one infested with insects. "My plan was simple," he wrote. "I was going to remove every possible refuge for the roaches. Wrapping up all of our property was only the first step. After that, I taped every crack and crevice in the cell. If it looked like a place where a roach could enter or flee, it was covered up. This was the beginning of the end for the roaches in cell 956."
Parham's account, along with stories from other students in the class, was published in the New Yorker in Decemer 2016.
In 2017, Parham enrolled in an urban ministry class with North Park Theological Seminary. The class was part of an emerging program with the seminary. A year later the School of the Restorative Arts opened—a unique partnership between the seminary and Stateville, where incarcerated and non-incarcerated students study together to earn a master of arts degree in Christian ministry. The program focuses on ministries of restoration through personal healing and community relationships, nonviolent communication, spiritual formation, and servant leadership. Taking those classes has "helped me become a critical thinker," Parham says.
The same year, Parham was one of 14 students approved to take a debate class taught by Katrina Burlet, who founded the nonprofit Justice Debate League, which is devoted to forming prison debate teams nationwide. "Smiley always gave people time and room to speak. He only spoke when he felt he had something to add, and it was almost always insightful," Burlet says.
"When you have natural life, time means nothing because you're living outside of time."
Burlet asked the students what topic they wanted to debate. They chose to focus on reinstating parole for prisoners with long or life sentences. "Guys wanted to get out!" Parham explains. In 1978, Illinois abolished discretionary parole, which requires a parole board to review a case to determine whether an individual merits early release. Without discretionary parole, more than 5,000 men and women will die in Illinois prisons due to the lengths of their sentences, according to Parole Illinois, a nonprofit seeking to reinstate the process.
Illinois is not alone. As of 2017, 16 states had abolished discretionary release as part of get-tough-on-crime measures. Most of these applied to crimes with a predetermined mandatory sentence regardless of the specifics of the offense. Many other states offer discretionary parole, except in cases when an individual is convicted of a crime such as first-degree murder or a sex offense.
That spring, Parham's class wrote a proposal for new legislation and held a debate inside Stateville. The audience included Illinois Department of Corrections officials and 18 legislators who had responded to the class's invitation.
Before the debate began, Parham gave a speech entitled "Are Natural Life Sentences Being Applied in the Way They Were Meant to Be?" In it he shared his own story. He was determined and desperate that the legislators would be moved to help him, as well as work for systemic change.
"All of the legislators were just shocked," says State Rep. Rita Mayfield. "Most of us had no idea that Illinois didn't have (discretionary) parole." She scheduled another meeting with the debate team members for a week later "just to hear if I really heard what I heard."
Mayfield became an advocate for Parham and began talking to state officials who could help his case. Since that day, she has also introduced parole-reform legislation to the Illinois House of Representatives.
Parham filed a petition seeking clemency from then-governor Bruce Rauner in which he wrote, "Petitioner asks this Governor for that which the courts cannot give or will not give: a second chance. Natural life takes away all the time I have left on earth. Don't take it. Allow him the chance to sacrificially give it away—to his family, to his community, to the youth and to his church—and know that he would do so gladly."
In January 2019, just days before he left office, Rauner granted Parham's petition and commuted his life sentence to 70 years. That meant he could be released after serving half that time. He had already been incarcerated for 30 years—so he still had to serve five more. Parham, who had spent his entire adult life in prison, would not be eligible for release until he was 54 years old.
"I was grateful," Parham says, "but what people didn't understand was I was expecting to go home."
"When you have natural life, time means nothing because you're living outside of time," he says. "The thing is, now I've entered back into time. I've given them 30 years, and I've got to do five more. Now all of the sudden, I'm on a countdown. And that's going to be torture!"
His family and friends continued to advocate for him, writing letters, calling and meeting with officials. "Everyone who saw his case said he had been overcharged and shouldn't have been sentenced to life without parole," Mayfield says. Finally last May, the state's attorney for Lake County, where the murders were committed, agreed to reduce Parham's sentence to 50 years, which meant he was finally eligible for parole. His release date was set for June 20.
Various bureaucratic obstacles caused repeated delays, however, including one postponement when someone handling his paperwork went on vacation.
On Monday, July 29, he was told the paperwork for his release was in the mail. But Wednesday, Thursday, Friday came and went and it still hadn't arrived.
The following Monday Parham decided to go to a Bible study with fellow classmates from North Park's School of Restorative Arts. Roughly two dozen incarcerated men and friends of the seminary sat on plastic chairs in a large circle in the prison's gym. They had already started their discussion when Parham arrived.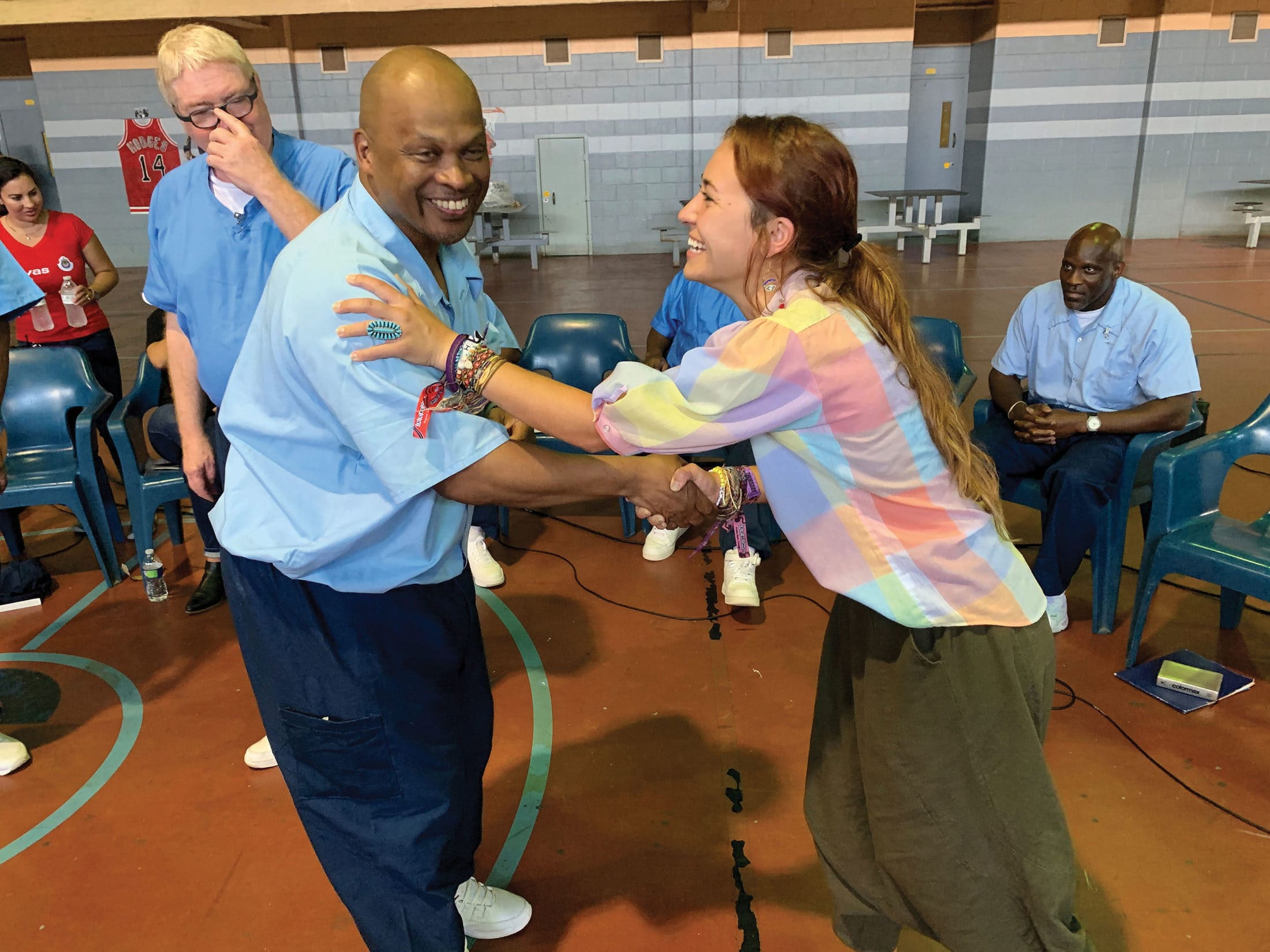 Grammy Award-winning artist Lauren Daigle congratulates Oscar Parham moments after he learned he was being released.
When he entered the room, he was stunned to see Lauren Daigle, the Grammy Award-winning Christian artist, among them. Daigle had performed at State-ville in 2018, and she was so moved by the experience that when she was back in Chicago for a concert, she made it a point to come back for Bible study. Daigle again surprised Parham when she was waiting for him after he was released.
As the group shared stories about their lives and faith journeys, a guard walked into the gym. Parham's back was to the door, so he didn't see him. The guard tapped him on the shoulder and told him the paperwork had arrived. He was going home.
Today Parham lives in an apartment on North Park's campus, where he continues his seminary studies. He looks a decade younger than his 50 years. He jokes and laughs a lot—it is easy to see why he picked up the nickname Smiley as a child.
Before he arrived on campus, he feared he might not be accepted. It turned out he didn't need to worry. "They welcomed me with open arms," he says.
He's easing his way into classes as he adjusts to life outside of prison. He took an ethzics class in the fall semester, which began less than a month after he was released, and earned a B-plus. This semester he is taking theology and Christian leadership courses. He works in the kitchen at Tre Kronor, the Swedish restaurant across the street from campus. Patty Rasmussen, who co-owns the restaurant with her husband, had met Parham at Stateville where she had participated in classes through North Park.
Family, friends, and the school are helping him navigate his new life. Benefactors are helping with rent and his tuition. "I look at today and all the support that I have," he says, deeply grateful that so many people have rallied around him. "I have so much support, it's almost impossible for me to fail. I can't thank the Lord enough for that."
Since his release, he has spoken with civic groups and teenagers. He has consulted educators on expanding higher-education opportunities in prison and creating post-incarceration programs. A local Black Lives Matter chapter presented him with its "Perseverance Award."
"One of the things I used to worry about is somebody getting out and doing something really crazy that is going to mess it up for the rest of the other guys," he says. "By coming to North Park, I'm representing them. Getting a job and doing speaking—I'm representing them. There are a lot of guys who deserve a shot, and I owe it to them."
"Smiley left a part of himself with us, and he took a part of us with him," says Alex Negrón, a friend of Parham's who is still at Stateville.
Parham knows it will take several years, but he plans to complete his degree and work to help others stay out of prison, as well as those who have been released.
"I want to write a new script," Parham says. "I want people to see that even someone who has been locked up as long as I have can come out and be successful."
Editors Note: As of Sunday, six Stateville Correctional Center residents had died due to COVID-19, and 121 incarcerated men and 72 staff had confirmed cases of the virus. Prayer vigils and car parades have been held to support medical staff and Stateville residents hospitalized.
The facility is on all-day lockdown as the Department of Corrections tries to contain the spread of the virus. Each cell is roughly 10 by 5 feet and houses two men.
We spoke with Oscar "Smiley" Parham last week and he says he has thought about his friends at Stateville every day since he was released last August. Recently his reflections have turned to safety concerns as well as grief over the COVID-19 related deaths of two former classmates.
Ronald "Rusty" Rice died April 5, and Joseph Tremaine Wilson died April 13. (Click here for in memoriam page.) Both were enrolled in North Park Theological Seminary's School of Restorative Arts (SRA) program. Parham says he is especially concerned about a former cellmate and SRA student who is over the age of 70. "He's in a high-risk category," Parham said.
"I know they had to lock down because I know how bad it spreads throughout the system," says Parham, who endured several lockdowns due to illnesses spreading through the prison during his 30 years at Stateville. "It's hard, it's real hard," says Parham.
To read a first-person account of worshiping with School of Restorative Arts students at Stateville, read "Beloved Community," by Celeste Cecchi.