I Bring the Voices of My People
A Womanist Vision for Racial Reconciliation
Chanequa Walker-Barnes
Eerdmans, 280 pages
Dr. Chanequa Walker-Barnes is a professor of pastoral care and counseling at McAfee School of Theology, a clinical psychologist, and a public theologian. And, as they used to say when I was growing up, "She didn't come to play."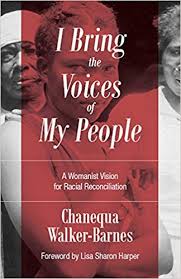 In her newest book, I Bring the Voices of My People, Walker-Barnes speaks an unapologetic and transformative word to the heart of the church regarding the sacred work of racial reconciliation. She speaks with a voice fueled by the wisdom of generations of black women who have suffered, survived, and found ways to thrive in a world that has been destructive for black and brown women on many levels. According to Walker-Barnes, women of color stand at the intersection of racial and gender issues. These women have much to say not only about the effects of racism on individual lives—they also have an experienced-based word on the necessary steps for dismantling the systems of racial oppression.
This book is an unapologetic critique of traditional, evangelical Christian racial reconciliation practice, which presumes that the racial divide can be bridged by simply building cross-cultural friendships. According to Walker-Barnes, we cannot "limit reconciliation to the intrapersonal and interpersonal level. Feeling better about ourselves and getting along on the individual level do not racial reconciliation make." Walker-Barnes spends nearly half the text making the case that the root of racism (and the other "isms") is power—how it is inherited, how it's used, and how it is (or isn't) shared. True racial reconciliation, according to Walker-Barnes, wrestles with the truth about the power that established systemic racism and the present-day uses of power that maintain it.
True reconciliation moves beyond
restored relationships to restoring
what racism has taken from the oppressed.
This is not an easy read, especially for readers who have been taught to think of themselves as white. Walker-Barnes takes an unflinching look at the responsibility of white people to own the truth of what whiteness has wrought in the lives of non-white people, and their complicity in allowing the structures of whiteness to remain. For Walker-Barnes, "racial reconciliation, then must be invested in the healing, bodily, mental, socio-emotional, spiritual and financial wounds inflicted by White Supremacy." True reconciliation moves beyond restored relationships to restoring what racism has taken from the oppressed.
This is not a simple read. Walker-Barnes brings history, sociology, and theology to bear on the critical subject of how we might understand racism and our racialized world in order to transform it. The book is a well-researched trove of information and quotes delineating the complexity of understanding racism as it intersects with gender.
Finally, this is a hopeful read. Walker-Barnes remains, like so many believers of color, convinced that God calls us to walk with our white brothers and sisters as a part of the family of God. While our tasks on the road to reconciliation are not the same, we are all moving toward a kingdom vision of healed relationships and healed systems—true shalom. Perhaps, in such a culturally divisive time, a vision like this seems impossible. But Walker-Barnes reminds us: "As followers of the risen Christ, we are called to believe in the impossible every day."