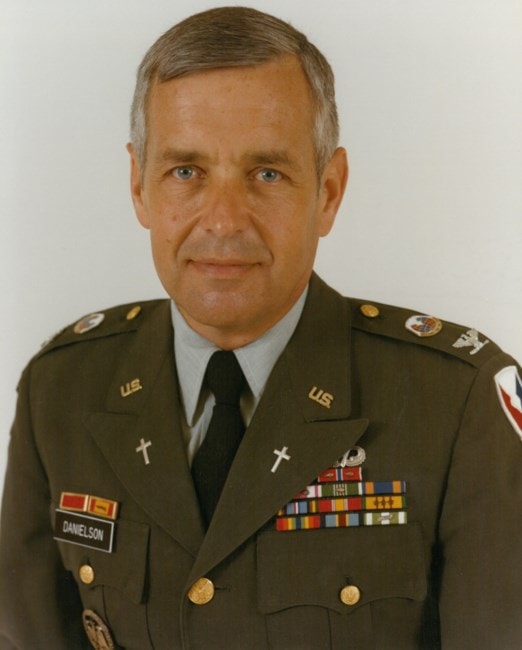 By Karen Hinz
(August 26, 2020) — Wendell "Dan" Danielson died Tuesday, August 18, in Colorado Springs, Colorado.  He was 84.
He was born April 9, 1936, in Alabama to Eric and Olive Danielson. Eric was a Covenant pastor and chaplain in the Army Air Corps.
The family moved often during Dan's childhood due to his father's military assignments. Dan graduated from Kaiserslautern High School in Germany. He attended North Park College and Seminary, Augustana College, Boston University, and Long Island University. Dan is a graduate of the Chaplain Basic and Advanced Courses and the Command and General Staff College, Fort Leavenworth, Kansas.
He met Marilyn Erickson while serving as youth pastor at First Covenant Church in Denver, Colorado. They were married August 25, 1961. He served as pastor of Morningside Covenant Church in Rockford, Illinois, for three years before entering military chaplaincy in 1965.
In the U.S. Army, Dan achieved the rank of Chaplain Colonel, and served the following assignments: 82nd Airborne Division, Fort Bragg, North Carolina; 101st Airborne Division, Vietnam; USA Schools, Munich, Germany; Post Chaplain, Murnau, Germany; 196th Infantry Brigade, Vietnam; 9th Infantry Division, Fort Lewis, Washington; Religious Retreat House, Berchtesgaden, Germany; Division Chaplain, 4th Infantry Division, Fort Carson, Colorado; Personnel Division, Chief of Chaplains Office, Washington D.C.; Staff Chaplain, Army Materiel Command (AMC), Washington D.C.; Post Chaplain, Fort Devens, Massachusetts.
While stationed in Vietnam, Dan was chaplain to 1,000 men. In 1967, he was awarded the Bronze Star for heroic and meritorious ground activities. He also received the Legion of Merit and the Air Award.
Dan served terms on the Evangelical Covenant Church's Board of Benevolence and the Board of Ministry. After he retired from military service in 1989, he served three Covenant churches in Colorado: Loveland, Lakewood, and First Covenant Church, Denver. Dan and Marilyn have been active members of Living Hope Covenant Church in Colorado Springs for 27 years.
A memorial service with full military honors was held August 23 at Living Hope Covenant Church. Dan was preceded in death by a son, Keith Roger. He is survived by his wife, Marilyn, two sons, Mark (Annie) and Aaron (Helen), nine grandchildren, and two sisters, Myrna Orris and Joyce Danielson. The funeral was livecast and is available to watch here.
Peace be to his memory.