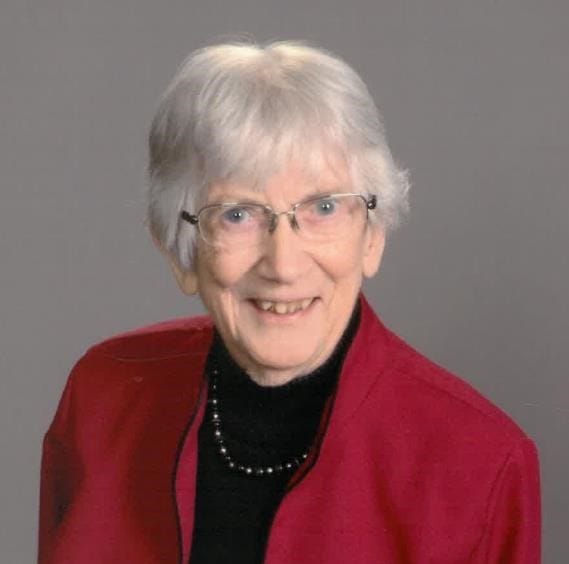 By Karen Hinz
(August 28, 2020)—Frances Dolores Decker died Tuesday, August 25, in Minneapolis, Minnesota. She was 92.
Fran was born July 2, 1928, in Buffalo, Minnesota, to Frank and Carolyn Decker. She graduated from St. Paul Bible Institute and College in St. Bonifacius, Minnesota, earning degrees in theology in 1951, and in Christian education in 1958. She took courses at St. Cloud State College, in St. Cloud, Minnesota, and earned a master's degree in religious education from New York University in 1964.
She taught Christian education at St. Paul Bible College, where she became dean of women, also teaching classes at Bethel College. She served Brookdale Covenant Church in Brooklyn Center, Minnesota, as director of Christian education. In 1970, Fran was one of the first four people in the Evangelical Covenant Church to be commissioned in Christian education, and in 1975, one of the first two women to receive a ministerial license.
Fran moved to Chicago to work in the denominational offices in the Department of Christian Education as the director of mobile ministry and field service from 1971 to 1980. Throughout that time, she traveled to 400 Covenant churches in nearly every state to help develop Christian education programs. She then returned to congregational ministry, serving as associate pastor and minister of Christian education at Salem Covenant Church in New Brighton, Minnesota, alongside pastor Glen Wiberg.
Covenant minister James Stanley-Erickson was a teenager in that congregation, and says, "Watching a team of male and female pastors working together, sitting in the chancel, preaching, and leading the sacraments normalized the idea of women in ministry for me."
Fran was ordained in 1986. In 2008, she reflected, "I'm just grateful that the Covenant saw the value in blessing women for ministry," she said.
In 1992, she began serving as chaplain at Bethany Covenant Home, a senior care facility in Minneapolis, a post she would hold for many years, even after 2012, when Bethany was sold by the Evangelical Covenant Church. In 2008, Fran was honored at a party to celebrate her 50 years of consecutive ministry and her 80th birthday. Over 200 people attended. At the time, she called the celebration "a powerful affirmation of me and my ministry." She continued working long after others would have retired. "My call is to be faithful to the Lord," she said. "Until he frees me to leave, I'll be here."
Fran enjoyed travel, and she and her sister, Lucille, both made sure to visit every continent. John Satterberg, retired chaplain at Covenant Living of Golden Valley, Minnesota, recalled that Fran brought this love of culture to her ministry, creating a program for her residents at Bethany Covenant Home called "30 Days of Global Awareness." She gathered full-sized flags from all the countries represented by the staff workers at Bethany and planned cultural events for a month, opening up the world to the residents and drawing staff and residents closer together. Covenant Living of Golden Valley later adopted the idea and offered a similar program.
Fran lived at Covenant Living of Golden Valley in her final years. She was preceded in death by her parents and three brothers, Gahart, Donald, and Kenneth. She is survived by a sister, Lucille Decker, of Buffalo, Minnesota, and many nieces, nephews, and cousins. Visitation will be held September 3, 2020, at 10:00 a.m. at Sunset Funeral Chapel, 2250 Saint Anthony Blvd. NE, Minneapolis. A funeral service will follow at 11:00.
Peace be to her memory.