(September 22, 2020) — Community Covenant Church in Scotts Valley, California, was able to help shelter 80 fire evacuees for more than a week in August because they were loaned two mobile shower trailers. Now the congregation is looking to purchase their own trailer to share with others in the event of future disasters.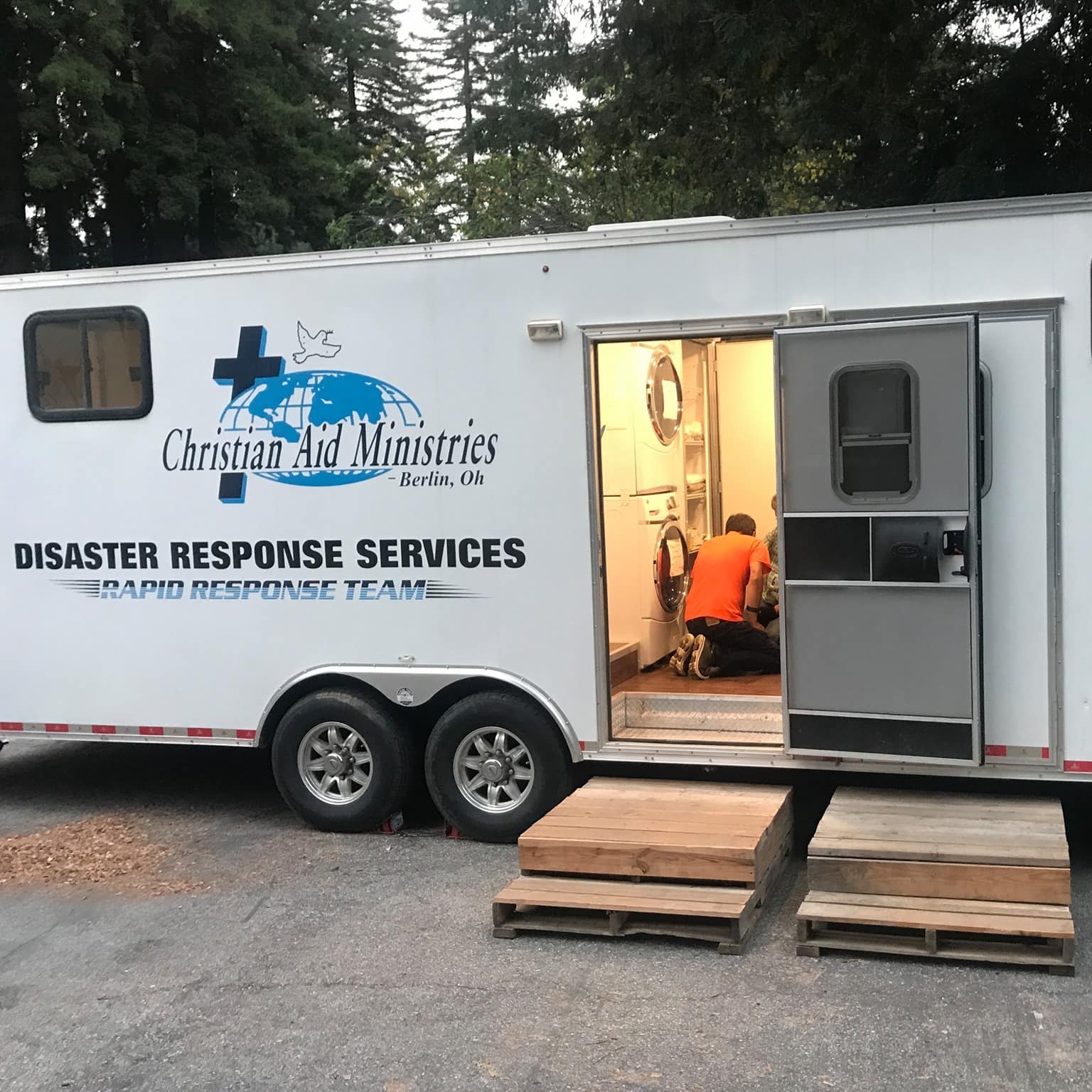 Community Covenant partnered with the Moose Lodge and another local congregation to shelter residents who were forced to evacuate the area, which includes Mission Springs Camp and Conference Center, the denomination's oldest camp.
The evacuation order was given on August 20 and subsequently lifted one week later. It was  several days before everyone could return to their homes.
Although 90 percent of the congregation were forced to evacuate, the church was able to stay open because it is located on the east side of Highway 17, the edge of the evacuation zone. The church, nestled among tall redwoods, is less than 100 yards from the highway.
"The church was a place for people to regroup," said pastor Jeremiah Fair. "If you needed to go somewhere else, then you could do that. People could leave their cars in the lot. If you needed to stay in the church, then you could stay." Some people stayed only a few nights, but most stayed through the entire evacuation.
Due to social distancing requirements, the church could only house 15 to 20 people, but the Moose Lodge down the street and nearby ReGeneration Church were able to make space for the others, said Fair. What none of them had was showers.
However, within 24 hours of the evacuation order, District Church, a Covenant congregation in El Dorado Hills, loaned the church its mobile shower trailer as did another nonprofit Christian organization.
The trailers, which each have eight showers, enabled everyone to take a hot shower each day. Each evacuee wiped down the shower with bleach after they were done, Fair said.
As a result of their partnership, the head of the Moose Lodge asked the church if someone could come talk with people who were struggling with anxiety and fear. Youth pastor Brian Mccutcheon went several times and spent hours talking and praying with people.
"The opportunity opened up because we were able to get showers," Fair said.
The church is accustomed to sheltering people. It operates a nonprofit homeless advocacy organization and, prior to COVID-19, housed their homeless friends on Monday nights throughout the year while six other churches open their buildings one night a week.
During the coronavirus crisis, churches are sheltering people for a month at a time because it is safer than having people move from one place to another, Fair said. If the crisis continues, the church hopes to serve as a month-long shelter in the near future.
A shower trailer will help Community Covenant better serve their homeless neighbors as well as others, Fair said. "The trailer could really change the way we minister to people. It is a great need around here."
The showers supply instant hot water and are easy to operate. "You just plug it into a regular outlet and hook up a hose," Fair said.
A new shower trailer costs $20,000, Fair said. So far, the church has raised $10,000, mostly from the denomination's Love Mercy Do Justice mission priority and Marin Covenant Church.
If weather patterns persist, the need for the showers will continue to grow, and Covenant churches will be impacted, Fair said. "It's only a matter of time."
Eight of the 10 largest fires in California's history have occurred in the last 10 years, according to Cal Fire. Fire has consumed more than 3.5 million acres in California so far in 2020, more than double the record set in 2018. That year, fires laid waste to 1.67 million acres of land, destroyed or damaged 24,226 structures, and killed 100 people.
Since August 15, fires have killed 26 people and destroyed more than 6,100 structures.