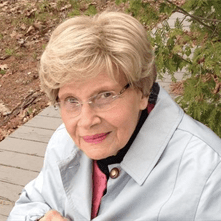 Mary Ellen (Sproule) Rabine, wife of retired Covenant minister Richard Rabine, died Thursday, November 26. She was 87.
Mary Ellen was born January 31, 1933, in Detroit, Michigan, to Thomas and Elvira Sproule. She grew up in Detroit and then graduated with a degree in education from the King's College in New York City.
She married Richard on June 8, 1956. They served churches in California and Minnesota.
In 1958, while pregnant with her first child, she was diagnosed with an inoperable spinal tumor that presented challenges she navigated courageously the rest of her life.
Mary Ellen was an excellent singer. When the "red" edition of the Evangelical Covenant Church hymnal was released in 1973, she sang "O Let Your Soul Now be Filled with Gladness" and "In the Springtime Fair" on an accompanying recording.
She started preschool programs at several churches and worked with the school district in Turlock, California, to establish a program at Turlock Covenant Church for single mothers. She also volunteered with Crossroads Prison Ministries. She considered prayer her main ministry.
She is survived by her husband, Richard, and children, Robin Grothe (Ron), Beth Pricer (Curt), Rex Rabine (Maria), and Rod Rabine (Sandra); seven grandchildren; four step-grandchildren; three great-grandchildren; and five step-great-grandchildren.
Memorials may be sent to Crossroads Prison Ministries, 2480 44th St. SE, Kentwood, MI 49512, or Joni and Friends, PO Box 3333, Agoura Hills, CA 91376.