The Wedge
Dr. Joyce del Rosario
joycedelrosario.com/the-wedge
What you don't know about history…can end up hurting someone else. I learned this lesson the hard way more than 20 years ago when in ignorance I referred to a colleague as an immigrant. She was Korean American. The hurt in her voice stung so hard that I mentally pledged to never make that mistake with anyone of Asian descent again. But, chastened though I was, I wasn't any more educated about why my mistake hurt my colleague so viscerally. My life in a Black body had taught me more than I wanted to know about how deeply rooted racial prejudice is embedded in our country. But it would be years before I learned that the same racism that impacted me also hurt my friends of Asian descent—in different but still very painful ways. I'm still learning. Enter The Wedge.
Nope. It's not about golf. It's an interview style videocast about the lives of our siblings in the Asian American and Pacific Island (AAPI) community. More specifically, it's about how AAPI believers are joining their Black brothers and sisters on the journey toward a world that embodies God's desire for justice.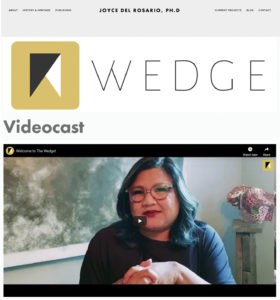 The series, with six, 30-minute episodes in its first season, is created and hosted by Dr. Joyce del Rosario, a second generation Filipino American scholar, author, and speaker. You can find out more about her at her website: joycedelrosario.com. In the introductory episode, del Rosario tells the history of how Asian Americans got saddled with what's known as the "model minority" label, which is the reason the show is called The Wedge. According to del Rosario and her guests, some of our AAPI siblings in Christ feel caught in the unresolved racial tension in America's history. In short, they feel wedged in between the made-up story about Asian Americans as a "model minority" and the racist lies that leave them subject to the kind of violent anti-Asian sentiment we've seen during the pandemic.
Instead of staying stuck in the wedge, del Rosario offers her videocast as both an educational dialogue and a healing balm. Her guests speak truth about their personal stories and the insights they've gained about race in America from their ministry work. The freedom that comes from telling the truth is evident in each videocast. These are joyful, hopeful conversations.
One more thought. In the introductory episode, del Rosario explains that The Wedge is a show by AAPI folks, featuring AAPI folks. It's a grace to peek in on these conversations and discover how God is working in a cultural community other than my own. I needed to hear these stories 20 years ago. I'm grateful they are available to all of us right now.
Watch The Wedge. You'll be glad you did.
The series can also be found by searching "the wedge aapi" on YouTube.