Covenant World Relief and Development, a ministry of the Evangelical Covenant Church, is working with partners to provide relief assistance for refugees and internally displaced people who have been the target of what international observers have called ethnic cleansing in the Tigray region of northern Ethiopia.
One partner, Bridges of Hope International, is led by Covenant minister Dennis Wadley, who raised worldwide awareness to the crisis last month when he posted a video in which the patriarch of the Ethiopian Orthodox Church, Abune Mathias, declared that the government was committing genocide.
In November 2020. the government, led by Nobel Peace Prize laureate Abiy Ahmed, attacked the region andthe Tigray People's Liberation Front (TPLF), which had been the ruling party in the country until three years ago.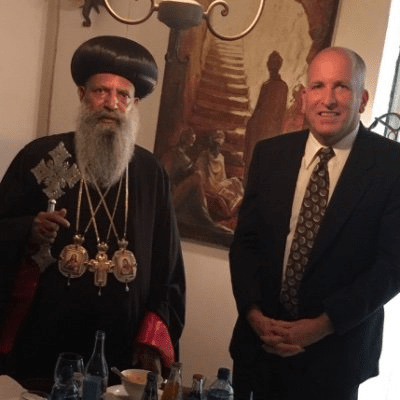 Government forces, assisted by troops from neighboring Eritrea had overwhelmed much of the region, including the capital city of Mekele. On Monday, fighters known as the Tigrayan Defense Forces retook the city and have regained much of the lost territory.
According to multiple international observers, the Ethiopian and Eritrean armies have slaughtered thousands of Tigrayans, used rape on a massive scale as a weapon of war, and destroyed crops, which has led to famine. The United Nations has stated more than 1.7 million people have been internally displaced, 65,000 have sought shelter in South Sudan, and 5.2 million are in immediate need of food and medical aid.
Bridges of Hope provides Community Health Evangelism, trauma-relief training, as well as other development and relief assistance in South Africa and Ethiopia. Wadley, who lives in the United States, spoke at a protest rally last weekend organized by the Tigrayans in Chicago.
Wadley and his wife, Susan, traveled to the city of Mekele in April to connect with ministry partners in the Orthodox church, offer trauma healing training, and care for people who had fled the fighting. While there, a friend told them people were distraught that they had not heard from their spiritual leader since the government had launched its ethnic cleansing campaign.
Wadley has been friends with the patriarch for years and said he would try to visit Mathias in the nation's capital, Addis Ababa, where he was under "virtual house arrest." Wadley was permitted to visit when he confirmed that he was not a journalist.
Mathias told Wadley he had tried multiple times to get messages to the scores of millions of people who are members of the Orthodox church, but the government blocked his attempts.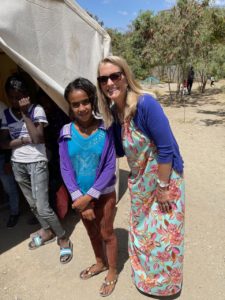 "I pulled out my phone and said, 'I'm willing to get your message out to the world,'" Wadley said in an interview. "If you want to get your message out, let's just video it right now. He bowed his head for about 10 seconds and he looked up and said, 'I'm ready.' I hit record and he just poured out his heart for 15 minutes."
In the video, Mathias states, "Nowadays, all over Ethiopia in general and in Tigray in particular, many barbarisms have been conducted." He adds, "I am not clear why they want to declare genocide on the people of Tigray. It is not the fault of the Tigray people. The whole world should know it."
Wadley released the video on Twitter in May after he and his wife had left the country. Major news outlets around the world picked up the story. Although international bodies had condemned the actions of the Ethiopian government, little action had been taken to stop the fighting.
"This is our generation's Rwanda," said Wadley, referencing the 1994 genocide in that country, when militias killed at least 500,000 people.
On Monday, Wadley posted on Facebook, "Now the challenge is getting food and aid to 5 million people before they die!"
He said he hopes evangelicals will become more involved in providing assistance. Al Tizon, executive minister of Serve Globally, a ministry of the Evangelical Covenant Church, is adding his name to a letter published by the Evangelical Churches Fellowship of Tigray Region, an umbrella organization for evangelicals in the region.
"When crimes against humanity like genocide continue, the global church must cry out in the name of Jesus and advocate for those being eliminated," Tizon said.
In addition to Bridges of Hope, Covenant World Relief & Development-xx also is work with other partners ministering in the area, including the Evangelical Covenant Church of South Sudan and Ethiopia as well as Medical Teams International.
"Despite the terrible conditions, we are confident that our partners can get help directly to those who are suffering," said Adam Edgerly, director of Covenant World Relief & Development-xx. Covenanters can donate to the relief efforts online with a note that the funds are meant for Tigray relief.