March 23, 2022
The Covenant Executive Board of the Evangelical Covenant Church, along with the Serve Globally Nominating Committee, is pleased to announce that Grace Shim has been nominated for the role of executive minister of Serve Globally. Shim will stand for election at the denomination's 136th Annual Meeting in June. If elected, Shim would begin her position on Sept. 1, 2022.
The Serve Globally Nominating Committee spent five months discerning who would best serve in this position. Cindy Wu served as chair of the committee and offers the following comments on why Shim was nominated: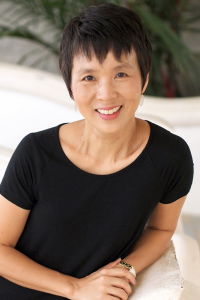 "The skill set needed for the role of executive minister of Serve Globally is almost as vast as the scope of Serve Globally. Grace Shim encompasses a broad and deep range of skills necessary for this role. Grace brings a long history of global service through the Covenant, a deep commitment to the mission of God, and a mature self-awareness. She has ministered in a variety of multigenerational, cross-cultural contexts and has strong relational gifts. As a current global personnel and Serve Globally regional coordinator, Grace already understands the complexities of this unique mission area. Her experience as a licensed counselor and the executive director of a counseling center in Thailand has given her the pastoral and executive gifts that will benefit Serve Globally well in this next season."
The executive minister of Serve Globally provides leadership to international missional efforts and initiatives, emphasizing partnerships with national churches and organizations, as well as mobilizing engagement and support among local Covenant congregations in the U.S. and Canada. The executive minister of Serve Globally oversees missional efforts for Covenant World Relief and Development, Merge, Paul Carlson Partnership, and more than 100 global personnel and ministry partners who advance the Covenant's mission in over 50 countries.
"Grace brings a valuable and unique perspective to Serve Globally, having served in this mission priority for 20 years," said John Wenrich, president of the Evangelical Covenant Church. "She is a wise, compassionate, nurturing, and unifying leader. Her heart for God and the mission of the Evangelical Covenant Church embodies her spirit as a true mission friend."
Upon notification of her nomination, Shim stated:
"This collective discernment process has confirmed God's call, and I would be honored to lead as executive minister in this season. My ministry and leadership are significantly shaped by those who have come before me and walked with me over the last two decades in Serve Globally and the Evangelical Covenant Church. I look forward to following Jesus together with amazing leaders, churches, staff, and global personnel in pursuing God's mission of hope and healing throughout the world."
Shim has served in the Covenant since 2003. Her home church is Christ Covenant Church in Villa Park, Illinois. She holds a bachelor of arts in math education from Virginia Polytechnic and State University, and a master of arts in counseling psychology from Trinity International University. She is a licensed clinical professional counselor and will be ordained to Word and Service at Gather 2022. Shim and her husband, Bob, have three adult children and currently live in the Middle East. If elected, Shim is committed to responding to the needs of Serve Globally and the Covenant Office Leadership Team.