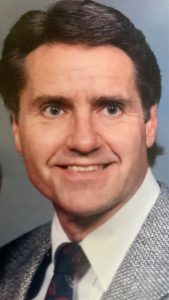 Covenant pastor Bruce Kallenberg passed away from Lyme disease in Edina, Minnesota, on June 4, 2022. He was 75.
Bruce was born to parents Karl and Betty Jane (Arnquist) Kallenberg on September 28, 1946, in Minneapolis, Minnesota. He graduated from Richfield High in 1964, then attended the University of Minnesota before switching to Bethany Global University in Bloomington. There he met and married Nancy Johnson. Their union produced a daughter, Lisa, and a son, Matthew.
In 1972, Bruce and Nancy began their life of ministry together, accepting a call to pastoral ministry at a Covenant church in Foster City, Michigan, then another call to the Covenant church in Viking, Minnesota. After that, Bruce began his seminary education, earning a degree in biblical and theological studies from Bethel University, and eventually, a master of divinity degree in biblical studies and a master of theology in hermeneutics.
Upon completion of his seminary education, Bruce served in a variety of roles in both church and academic leadership in Minnesota, including pastoral stops at Park Avenue Covenant (now Crosstown) in Minneapolis, Riverside Church in Bloomington, and Bethany Covenant in Stillwater, and professorships at Bethel University and the Bethany School of Global Missions.
Bruce was loving, caring, passionate, and God-fearing with a heart of compassion and kindness and sensitive to the needs of others. He was fun-loving and quick-witted with a great sense of humor. He had a great love for the outdoors, often enjoying walks in the woods, fishing, hunting, sports, music, jogging, and physical fitness.
Bruce was preceded in death by his daughter, Lisa Kallen-Youngberg. He is survived by Nancy, his wife and ministry partner for 54 years, son Matthew; and many nieces and nephews. In lieu of memorial gifts, trees can be planted in his honor.
Peace be to his memory.