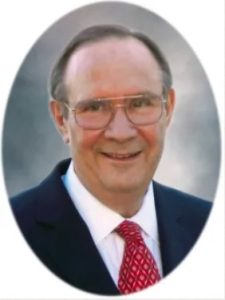 Retired Covenant pastor Jim Ressegieu passed away on October 15, 2022, in Lincoln, Nebraska. He was 79.
James Craig Ressegieu was born to Craig and Marion Ressegieu on July 24, 1943, in Sioux City, Iowa. His family later moved to Omaha, Nebraska. Jim graduated from Omaha Central High School in 1961, then continued his education at the University of Nebraska-Omaha, earning a bachelor's degree in communications in 1971, and a corresponding master's degree in 1977.
Jim and his family attended First Covenant Church of Omaha during his formative years, and he continued there as a young adult. In the young adult ministry group he met Karen Holen; they married on June 18, 1966.
Jim served for three years in the United States Army, then worked in a variety of fields during and after college, including at the UNO TV station, as director of educational television for the University of Nebraska Medical Center, and as director of training for People's Natural Gas / Utilicorp.
Sensing a call to ministry, Jim attended North Park Theological Seminary, earning a master of arts in divinity in 2007. That same year, he was ordained into Word and Service by the Evangelical Covenant Church. He and Karen went on to serve together in pastoral ministry at Faith Covenant Church in Essex, Iowa, until his retirement in 2017.
After retirement, Jim remained active in preaching God's Word in various churches and retirement centers. He loved people, making himself available to listen and pray with them. Many will remember him for his stories, riddles, and quick jokes.
He was preceded in death by his sister, Mary Lynne; brother-in-law, Dick Jurgens; and nephew, Ricky Jurgens.
He is survived by his wife, Karen; sisters-in-law, Lois Jurgens and Cynthia Copeland (Chuck); brother-in-law, Don Holen (Lois); and 11 nieces and nephews.
He was remembered at a memorial service on October 20, at First Covenant of Omaha. In lieu of flowers, memorial gifts may be sent to First Covenant Church of Omaha, University of Nebraska Foundation—Karen and Jim Ressegieu Scholarship Fund, or Covenant Cedars Bible Camp.
Peace be to his memory.