The Covenant church in Joliet, Illinois, is learning to do the right thing—even when it feels like the wrong time.
Church of the Good Shepherd has been serving its community in Joliet, Illinois, for nearly 150 years—and their youth ministry has always been central to their mission. Even when the congregation didn't have funds to pay a youth director a full salary, they had an ace in the hole: they could offer free housing in their parsonage. That meant they could make a second staff position work—and ministry with children and youth has always been core to their identity.
The 700-square-foot, two-bedroom house is older than the church building itself. "We've always considered the parsonage an essential asset in hiring a youth director," says Bob Edman, chair of the properties committee who has attended the church since he was a child. "We've worked hard over the years to keep it updated."
So when Jake Bradley was called to COGS as the youth director 20 years ago, he moved into the parsonage. "We birthed our first two children there, we adopted our third there," he says.
Four years ago, Bradley became the lead pastor of COGS. After he and his family moved out of the house, a part-time youth director moved in. In 2020, she moved on to another calling, and the pandemic forced the congregation to pause its in-person youth ministry.
So the house was empty. And Cheryl Lynn Cain, pastor of multicultural ministries, began to ask some questions.
"We've been taking steps to see how we can be mission friends with our neighbors down the street," she explains.
Specifically, those neighbors include residents at Stateville Correctional Center, less than five miles away. Cain came to serve at COGS four years ago, fresh out of North Park Theological Seminary, where she had been part of the School of Restorative Arts since its founding. The SRA prepares individuals for ministries of restoration in contexts that are susceptible to violence. Students include incarcerated men at Stateville, incarcerated women at Logan Correctional Center, and "outside" North Park students.
One year the church created the Friends and Family of Stateville Fall Fest to get to know relatives of men who were incarcerated. As families sat together at tables, they listened to each other's stories. COGS members discovered unexpected commonalities between their experiences and their guests'. They began to see the realities of people living behind the walls they drove past every day. 
"We began as a church to understand some of the obstacles people faced," Cain says. "That was the beginning of our church's understanding of what God was doing."
Meanwhile, the parsonage sat empty, and Edman and the properties team were looking for someone to occupy it. "We knew it was better to have people in it than to leave it empty," he says.
Jan Coleman is an active lay leader who grew up attending the church, then returned when her first son was born 45 years ago. "There was a time when we talked about tearing it down and putting a big circular driveway out in front of the church, so we'd have more visibility from Route 30. But we kiboshed that because the parsonage is such an essential asset for our ministry." 
"As a church, we want to be good stewards with what God has given us," says Sabrina Price, chair of the COGS council, who first came to the church as a teenager attending the youth group. "So we put together a parsonage committee."
The committee began to brainstorm about possible uses for the empty house. The budget couldn't accommodate a youth director, but perhaps they could hire an unpaid intern and offer them housing. Or maybe they could find a local nonprofit that needed the space.
But neither of those possibilities panned out. As they considered other options, nothing seemed right.
When Cain heard about an SRA student who had been released from Stateville and needed housing, she brought the idea to the committee. "There were definitely several concerns," Price says. "We have a very small church, and we're all volunteers. We don't have a lot of time. We don't have a lot of legal experience or expertise as landlords."
They were also hesitant about housing someone coming out of Stateville. Eventually, Price says, "We felt like there were too many questions for us to be able to move forward. So we passed on that. Maybe at some point in the future that might be something we could consider."
Then a family arrived from Colombia who needed a place to stay. Cain, who is a second-generation Colombian American, was helping them navigate their new life and wondered if they could move into the parsonage. But the committee still felt like that was too complicated.
"At that point, we started to realize these opportunities might keep coming," Price says, "and we still don't have answers. Maybe instead of saying, 'We don't have answers,' we should start to find some."
So they contacted their insurance company to find out about liability within their policy. They got in touch with Steve Dawson, former president of National Covenant Properties, who provided background on how other churches operated similar ministries. He explained legal parameters, which helped the church understand that they had leeway to use the parsonage for anything that fit within their missional purposes. The clarity and expertise he provided felt like a game-changer, says Bradley.
Around that time, another SRA student named Maria was released from Logan Correctional Center. She was renting a room with her godmother, so she didn't need a place to live. But for the first time in 13 years, she was being reunited with her children over Christmas. She asked Cain, "Do you know of anywhere I could stay for a week so I can spend Christmas with my children?"
It was December 1, 2021. "When I heard her question, it very much felt like an invitation to participate in the Advent story," Cain says. "Would we recognize Jesus if he knocked at our door and his parents needed a place to stay? Would we still need to go through these processes of working through the usage or how we've always thought about this space? When I came to the committee with this new option, to me it almost felt more like an invitation to us than for Maria."
At one point, someone said, "Can't you just tell them, we're too old? It's the right thing at the wrong time, and we're just too old?"
Pastor Jake replied, "Maybe it is the right thing at the wrong time, so why don't we do our work to be able to do the right thing and find the right time?"
Coleman adds, "We definitely had our concerns, and we still haven't answered all of our questions."
But even without clear parameters regarding who would and wouldn't be able to live in the house, Coleman says she was able to set her concerns aside with Maria. "For some reason, it felt more comfortable with her. I saw the comfort Pastor Cheryl Lynn and Pastor Jake had with her. I thought, 'This could be a good test. Let's see how this works out.'"
She adds, "I still think we need to set clear criteria about who can live there. But we know how to follow the process of decision-making together. We're all pretty honest with each other. We're not afraid to express our feelings. Because of that, we can get from one place to another. It's all a process, and the process is ongoing."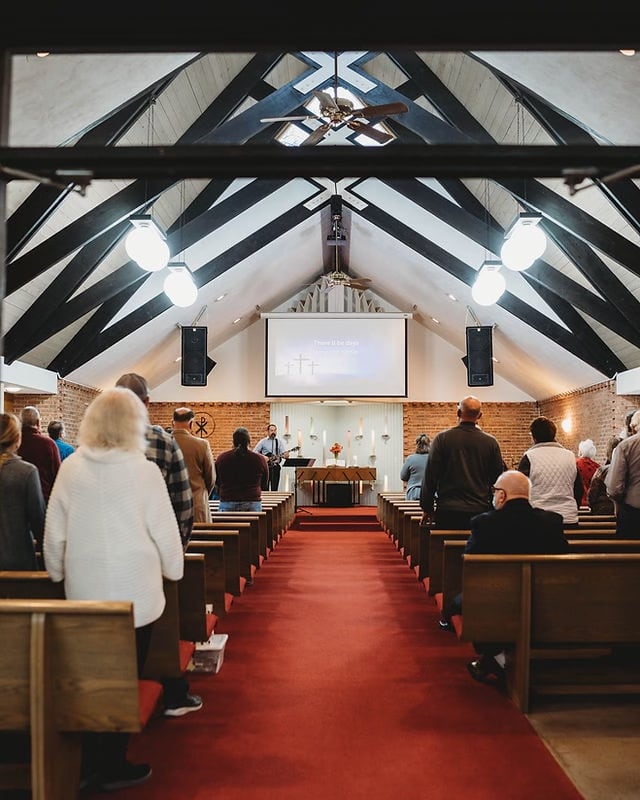 COGS held a special congregational meeting on December 8 to discuss whether Maria could move in. People spoke their minds. Some said they weren't happy. Yet when they took the vote, it was unanimous in favor. "People were emotional," Cain says. "We were taking this risk, and we were saying yes."
"The church was opening an invitation to Maria," Price says. "But maybe God was also opening an invitation to the church."
Immediately after the vote, Coleman said, "Now that we've opened the home, how are we going to furnish it? What are we going to do to get it ready for them? How are we going to make this house a home?"
She spearheaded a housewarming. Church members donated thousands of dollars of goods, providing everything from comforters to wall art to Christmas decorations so when Maria and her children arrived, it felt like a home.
"I think the issue behind the issue was this," Bradley says. "With all the chaos of the pandemic, the parsonage was a physical representation of everything that's changing, all the loss and grief. For 30-50 years we considered the parsonage an asset that allowed a small church to have a second staff position. Changing the use of that space seemed to violate our core identity. Is our church dying if we don't have a youth pastor? Even if it's the right thing to do, it's really, really difficult."
Cain adds, "That's still what we're working through. What may we still need to let go of? Is it ever gonna look the same? Or will we have to continue to re-imagine our ministry?"
One week later Maria and her children moved into the parsonage. Throughout the past year, she and the church have re-evaluated their arrangement regularly to confirm that it is working for both parties. Now preparing to celebrate her second Christmas in the parsonage, she is working through the process of buying her own home. By spring, the members of COGS may have the opportunity to begin creative conversations about how they will continue to make room at the inn—and room in their imaginations for something new.