On Wednesday, March 15, at around 4:00 am the building used by the Evangelical Covenant Church of Bay Indies (ECCBI) in Venice, Florida, caught fire and burned completely to the ground. The fire also spread to one neighboring home that sustained damage to its roof. No cause for the blaze has yet been determined.
The church has met in the clubhouse building of the Bay Indies Resort, a manufactured home retirement community, for 50 years. Everything belonging to the church—organ, grand piano, chancel furniture—was destroyed. Paperwork, records, and personal items in the offices and the pastor's office were also lost.
The church has been able to move their Sunday morning services to another recreation center in the park, but they expect it will be years before they are able to move into another building.
Jonathon Kosec has served as lead pastor at ECCBI since October. "It is still rather shocking that we have lost absolutely everything. We are thankful to God that no one was injured. No emergency services personnel were injured," said Kosec in a phone interview. "We are blessed the wind did not carry the flaming ashes any further. Just one home was damaged. It could have been disastrous, but it was not."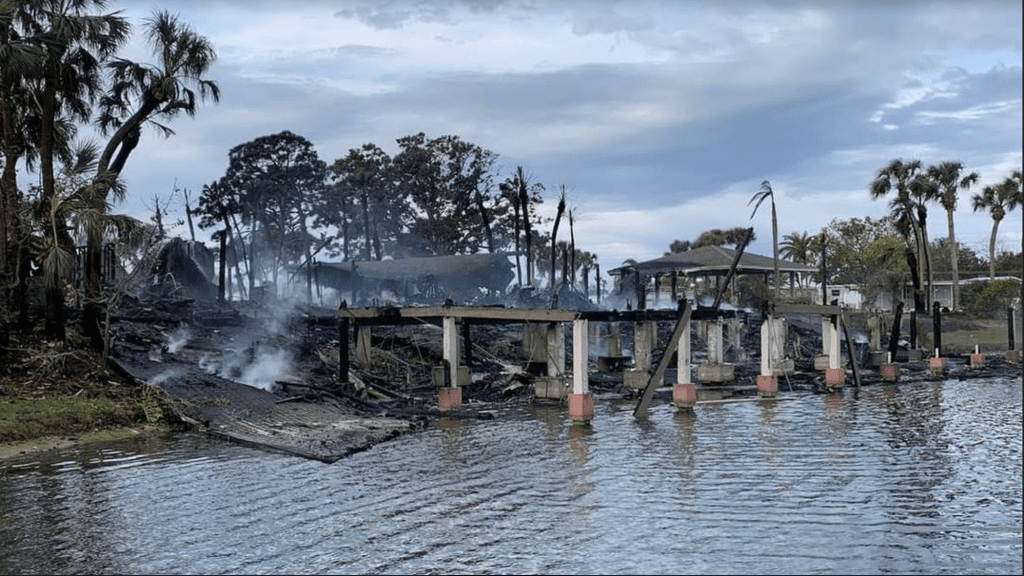 Kosec says the church was still recovering from the devastating effects of Hurricane Ian last September, and they now face this loss—the need to replace the destroyed items feels daunting as they currently have no place to store anything.
Tri-Par Covenant Church in Sarasota, Florida, had already been planning to donate their hymnals to ECCBI since they now do all their music digitally, but that delivery had been delayed. On the Sunday morning after the fire, they hand-delivered the hymnals to ECCBI to use in their worship service. "I had been wondering how the congregation would adjust to the switch from using the red hymnals to the blue," says Kosec. "Necessity has made that a non-issue."
"We are most grateful to the many, many Covenant members who have lifted us in prayer and asked what they might do for us," says Kosec.
Anyone who would like to help with rebuilding efforts may send a check to the Evangelical Covenant Church of Bay Indies, PO BOX 237, Venice, Florida, 34284. For other arrangements, contact Pastor Jonathon Kosec at (941) 916-7300.