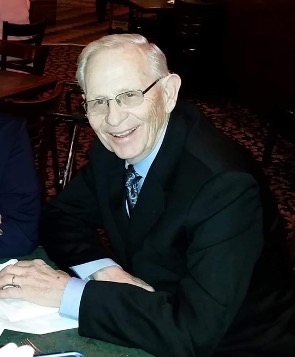 Retired Covenant chaplain and minister Roger J. Nelson died March 18, 2023, in La Valle, Wisconsin. He was 89.
Roger John Nelson was born on December 24, 1933, to parents Nels and Ellen (Anderson) Nelson in Duluth, Minnesota. He graduated from the University of Minnesota Duluth in 1955 and North Park Theological Seminary in 1960. While at North Park, he met Marilyn Peterson, and they married on August 3, 1957.
Roger was ordained while serving at Fraserview Community Covenant Church in Vancouver, British Columbia. In 1963, he accepted a call to be a chaplain at Swedish Covenant Hospital, eventually becoming the director of pastoral care. He treasured the many connections he made with colleagues, employees, and patients while working there.
He retired from his role at Swedish Covenant Hospital in 1998.
In retirement, he enjoyed traveling with his wife and spending time with family.
He was preceded in death by his wife, Marilyn, in 2019. He is survived by two children, Susan Guttormsen (Kevin) and Mark Nelson (Lisa); eight grandchildren and four great-grandchildren.
A memorial service will be held at 2 pm on Saturday, June 24, at North Park Covenant Church in Chicago, Illinois. In lieu of flowers, memorials may be sent to the Good Shepherd Initiatives in Pastoral Care at North Park Theological Seminary.
Peace be to his memory.