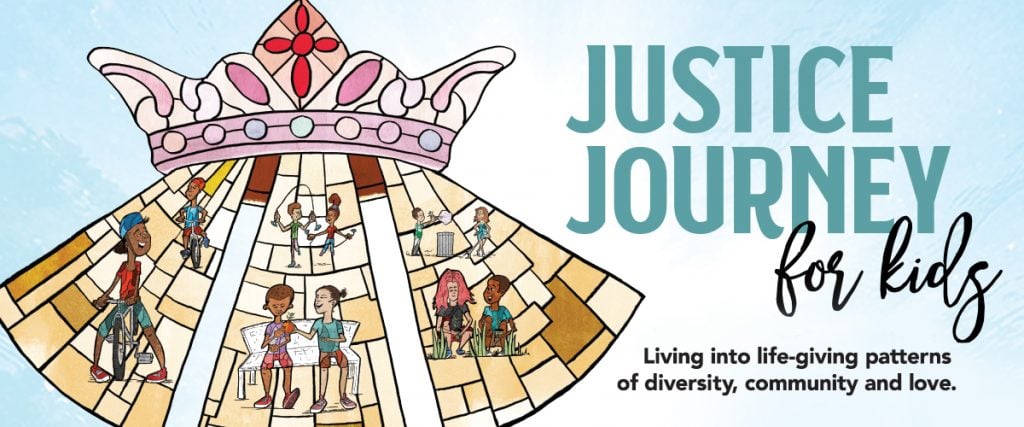 Justice Journey for Kids (For Ages 7-11)
With the belief that children are fully a part of the body of Christ, and in the hope that the next generation will celebrate the diversity of God's kingdom and be empowered by the Spirit and the love of Christ to overcome the injustice inherent in a broken world, Make and Deepen Disciples and Love Mercy Do Justice have partnered to develop this resource.
Content
This resource will include seven modules with three sessions in each module for a total of 21 sessions. We are excited to offer the first six modules for download now, with the remaining modules coming soon.
We want to hear from you! As this curriculum is still in beta stages, we would love to hear your feedback and thoughts. Sign up for the beta team to be notified when a new module has been posted. We welcome your suggestions for improvement or additional content ideas. Please send your ideas to MDD@covchurch.org.
Contributors
Writers:
Dominique Gilliard, Katey Hage, Becky Jarrett, Helen Lee, Leslie Sanders, Magdalena Sanchez
Illustrator: Abram Rabinowitz
Project Director: Steve Burger
Editing and Design: Covenant Communications
Module 1: GOD'S DIVERSE CREATION
Session 1: Creation and Diversity
Session 2: The Church and Diversity
Session 3: The Kingdom of Heaven and Diversity

Module 2: GOD OF JUSTICE
Session 1: Injustice
Session 2: God's Shalom
Session 3: How Sin Keeps Us from Loving Our Neighbor and Hurts Our World

Module 3: IDENTITY WITH GOD AND EACH OTHER
Session 1: Made in God's Image
Session 2: Appreciating the Diversity of God's People
Session 3: Treating and Valuing Everyone Equally

Module 4:
JOURNEY OF BROKENNESS AND RECONCILIATION
Session 1: Brokenness
Session 2: Right Relationships
Session 3: Judging Others

Module 5:
JOINING WITH GOD TO DISRUPT INJUSTICE
Session 1: God's Plan to Disrupt Injustice Through the Prophets
Session 2: God's Plan to Disrupt Injustice Through Jesus
Session 3: God's Plan to Disrupt Injustice through the Holy Spirit

Module 6: ONE INTERCONNECTED BODY, MANY INVALUABLE PARTS
Session 1: Every Person Is Vital
Session 2: Every Part Is Vital
Session 3: The Loving Neighbor

COMING SOON

Module 7: JESUS, THE ANSWER AND THE WAY