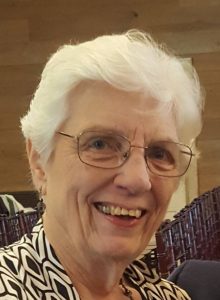 CHICAGO, IL (December 4, 2018) – Retired Covenant missionary Janet Thornbloom, who ministered to the people of the Democratic Republic of Congo for 44 years, died Monday evening. She was 79.
In addition to serving Congo, she also worked 18 years as an investment coordinator with National Covenant Properties.
She was born February 15, 1939, in Evanston, Illinois. She earned a bachelor of arts from North Park College.
Jan married Bob Thornbloom on August 13, 1960. The couple first traveled to Congo in 1963.
Jan taught reading and writing to women, taught English as a second language to high school students, managed the technical services office, and tutored missionary children at the Ubangi Academy. She also worked with women to develop micro-enterprise businesses.
At the Annual Meeting in 2007, she and Bob received multiple standing ovations during their retirement ceremony. Jan told the gathering, "Every person has been given one life to make a difference in the world. One must choose carefully to be sure it will be significant. If you are fortunate, you can make this difference where your dreams exist and your heart lives."
She continued, "Congo is where our dreams existed and our hearts lived. But time marches on. We've come to a point where our focus is changing, but this change does not narrow our horizons. The horizon of life remains constant as long as one has open eyes to see it and walk toward it."
"Jan was a compassionate, tireless, persistent advocate for the people of Congo she loved," Curt Peterson, former executive minister of Serve Globally, said today. "I was especially moved by her efforts to help organize and resource the Widow's Program in Karawa in recent years that helped women develop business enterprises to provide for themselves and their families with dignity. Jan and Bob were missionaries for life, whether in Congo or from a distance. We remember Jan today with heartfelt gratitude to God in celebration of her self-giving life."
"Jan and I were close neighbors for most of 30 years," said retired missionary Eileen Thorpe. "We shared a common life. Our children became like one family. I admired her as a mother and as a servant of Jesus who deeply loved the people of Congo. She also was a wonderful host as she welcomed guests from around the world with grace."
Geneva Christensen, who served in Congo for forty years, recalled "Jan did a remarkable job of raising three kids while also playing an important part in advancing the ministry. She used in many skills in numerous area, including helping to manage the well-run garage and mechanical assistance operations.
Her last several years of missionary service were done remotely from Chicago as she helped administrate projects in Congo while also working for National Covenant Properties from 1995 to 2014.
Her desire to serve others was evident while she worked at NCP, said president Steve Dawson. "She made such an impact with customers that even approaching five years after her retirement, they would call to speak with her. She was more than a valuable member of our team—she was our friend and she will be missed by many."
Survivors include her husband Bob; two daughters, Beverly Hawkins (John) and Twyla Becker (Chris); a son Mark (Dena); and four grandchildren.
Services are pending.