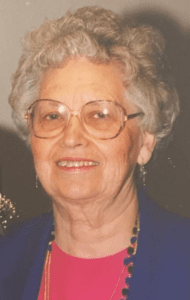 Retired Covenant missionary Vivian Louise Edstrom died December 14. She was 95.
She was born October 8, 1926, in Dawson, Minnesota, to Mayme and Andrew Anderson. She earned an associate's degree from North Park College and an RN degree from the Swedish Hospital in Minneapolis, Minnesota, in 1948. After beginning her career in nursing in Dawson, she worked for the Blackfoot Nation in Browning, Montana. While she was in Browning she heard that the Covenant Church was looking for a missionary nurse to serve in the Democratic Republic of Congo. She was commissioned in 1952 and went to Belgium to study tropical medicine for six months.
She arrived at the Karawa hospital in 1953 and began working in the maternity ward. Upon arriving in Congo, she learned Ngbaka, a local tribal language. At the time of her death, she was still fluent in Ngbaka in addition to Lingala, Swedish, and French.
She met her future husband, Carl, in Congo. Their first date was in Gemena, an hour and a half from Karawa. They were married in May of 1959, at the Karawa church and honeymooned in Bangui, Central African Republic. In addition to her work in nursing, Vivian led Bible studies, taught literacy classes for African women, and served as the Karawa station hostess. She and Carl served in Karawa, Bumba, Kisangani, Kinshasa, IPOK (a small community outside of Gemena), and Gemena. They retired in 1989 and settled in Rockford, Illinois. They moved to Covenant Living of Northbrook in 1996.
Vivian was preceded in death by her husband, Carl, and all five of her siblings. Survivors include her children Mary Beth Kovacic (Kurt), James Edstrom (Judy), and grandchildren Andrew, Rachel, Gabriel, Wesley, and Madeline. In lieu of flowers, memorials may be sent to Serve Globally for clinics in DR Congo. https://giving.covchurch.org/priorities-detail/Supply-a-Clinic-with-Medicine-in-DR-Congo
A memorial service will be held at Winnetka Covenant Church, 1200 Hibbard Rd, Wilmette, IL 60091 on January 22 at 2:00 p.m.