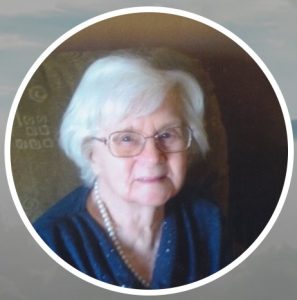 Bernice "Birdie" Anderson, widow of Covenant pastor and former Covenant Bible College president Wendell Anderson, passed away on October 12, 2022. She was 96.
Birdie was born September 17, 1926, on a family farm near Minnedosa, Manitoba, to Carl Elmer and Hilma Johnson. After graduating high school, she attended Covenant Bible Institute in Prince Albert, Saskatchewan, for a year, then trained as a nurse at Grace Hospital in Winnipeg, Manitoba.
While working as a nurse, she met Wendell Anderson, and they married in 1950. Their union produced a daughter Wendy, who passed away from croup; a son, John Barton; and three more daughters, Ingrid, Jolyn, and Christine.
After serving the Covenant church in Norquay, Saskatchewan, and a move to Seattle for Wendell's continuing education, they returned to Prince Albert where Wendell served as president of Covenant Bible College. They remained in Prince Albert for 60 years, during which Birdie served in a variety of capacities, including school nurse, pianist, interim cook, hostess, gardener, and head nurse of the surgical ward at Victoria Union Hospital. She was an active member at the church that became Gateway Covenant and served as president of Canadian Covenant Women from 1997 to 1999.
After Wendell passed away in 1998, Birdie stayed in their home, engaging in a variety of hobbies and interests, including reading, quilting, sewing, knitting, gardening, baking, entertaining, and playing music. In 2017, she moved to Regina to be closer to her son.
Birdie was preceded in death by her husband, Wendell, and daughter Wendy. She is survived by her son, John Barton (Mary); daughters Ingrid (Jeff) Loewen, Jolyn Anderson, and Christine Obach; ten grandchildren and six great-grandchildren; sister Harriet MacLaren, brother Wes (Connie) Johnson, as well as many nieces and nephews.
She was remembered at a memorial service in Regina, Saskatchewan, on October 21, 2022. The livestream is viewable here.
Peace be to her memory.